LinkedIn has announced a new AI-powered, automated B2B marketing campaign creation tool called Accelerate.
"In as little as five minutes, Accelerate will recommend an end-to-end campaign and automatic optimisations to reach the right B2B audience with engaging creatives, which you can adjust and fine-tune before you launch your campaign."
Accelerate builds on LinkedIn's existing AI tools, such as automated placement and Predictive Audiences.
Another tool for marketers
LinkedIn has launched Accelerate to make it quicker for B2B marketers to develop and launch advertising campaigns.
Marketers can decide if they want to use Accelerate after picking an objective in Campaign Manager.
"To get started with Accelerate, you simply need to provide a URL for the product you're advertising. We'll then use AI to analyse the website you shared, your company's LinkedIn Page and your account's prior LinkedIn ads to recommend a campaign."
LinkedIn will then build creative and an audience using customer data – while marketers can then adjust copy, swap out images and refine the AI-selected targeting parameters.
But that's not all folks! Accelerate can also help improve campaign performance. All marketers need to do is click on the 'Assist' button and they will be handed some AI developed recommendations – while the machine can be asked questions like 'what are some of the best practices for targeting' to help improve campaigns.
Builds creative and optimises audiences
Once an Accelerate campaign is launched, AI will automatically adjust bids and move your budget around to the best performing placements and creative thanks to help from LinkedIn's other automated features such as Predictive Audiences to adjust campaign targeting on the go.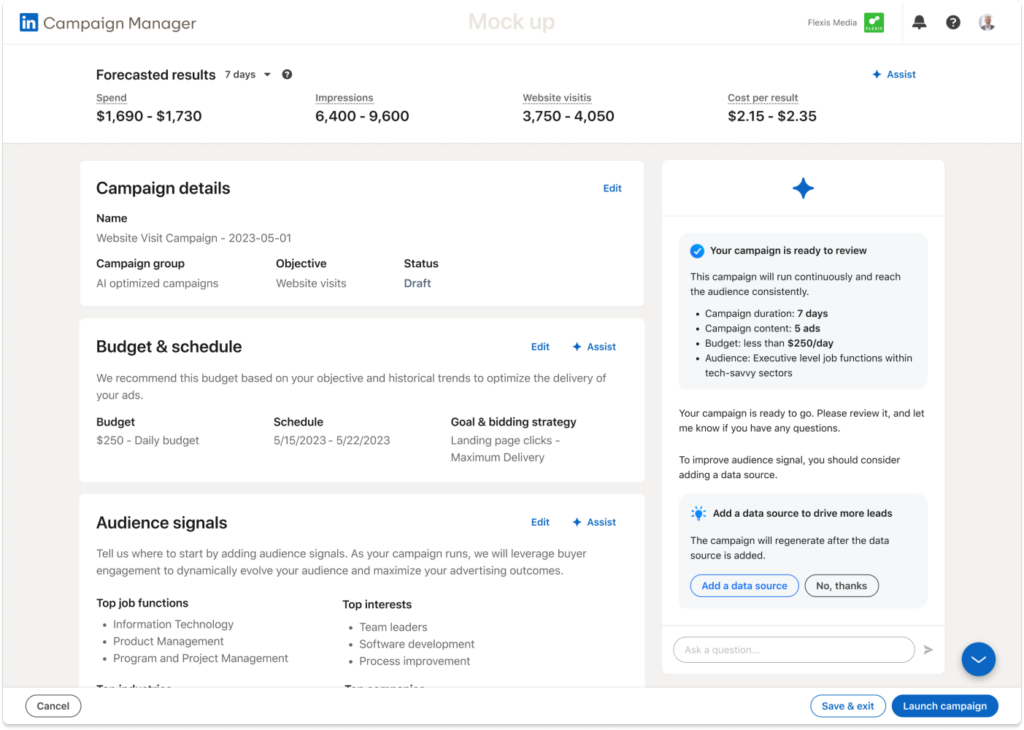 LinkedIn has also introduced Automated Performance Summary Reports within Accelerate to help marketers understand their campaign better via performance metrics such as spend, cost per key result, impressions, clicks and campaign trends such as top audiences based on industry, job title, company or location.
As mentioned up top, the tool is aimed at B2B marketers and right now, it's only available to a select group of marketers in the United States – although it will be rolled out to a few lucky ducks in North America, India and Australia. The rest of us will have to wait until 2024 to access Accelerate.
Quicker creative, increased ROI
According to LinkedIn, there are several benefits of using Accelerate. First, it will give marketers more time in their day to be "creative and strategic" by taking on most of the heavy lifting associated with ad campaigns on LinkedIn.
It'll also help marketers make data-driven decisions and increase ROI by dynamically adjusting campaigns as they happen.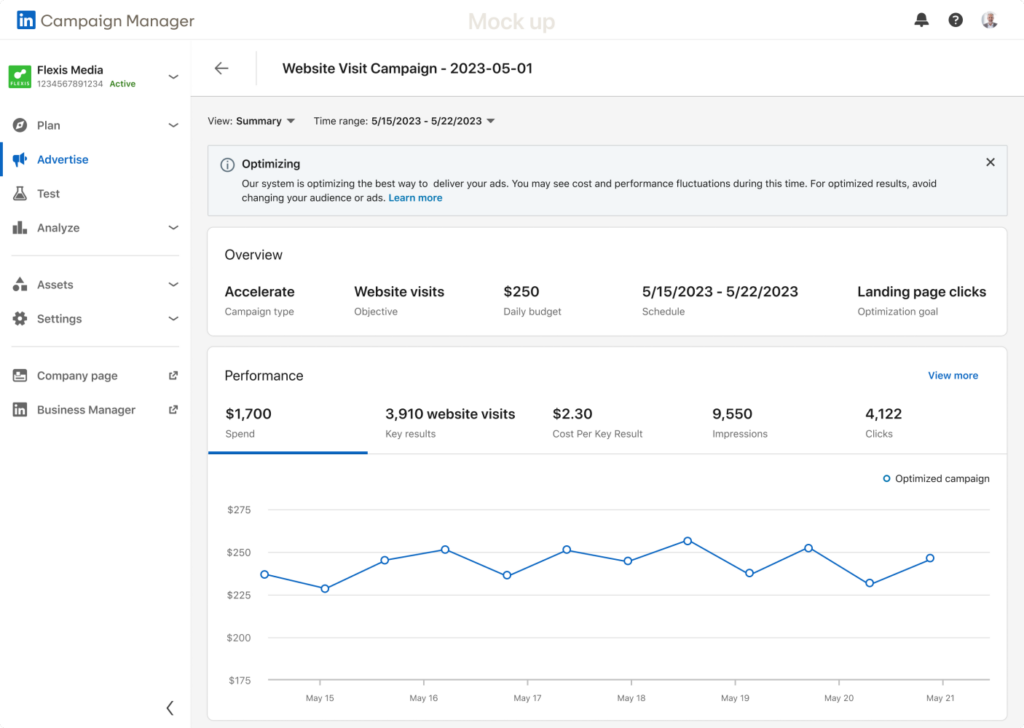 Of course, Accelerate puts a lot of control in the hands of robots, which some people may not be comfortable with. But if everything that LinkedIn says about it is true, it could be worth experimenting with at the very least.
LinkedIn's AI suite
Accelerate isn't LinkedIn's only automated ad tool. It already has predictive audiences under its belt, which helps expand a campaign's reach by creating an audience of people similar to an existing data set.
"To create a predictive audience, we combine your data source and LinkedIn's AI to automatically generate a new custom audience to use in your campaigns.

"The data sources you choose in Campaign Manager should align to the specific behavior you'd like to replicate."
According to LinkedIn, predictive audiences improve cost per lead by 21%. However, you need to have 300 or more members to create a predictive audience, but that can be combed from multiple sources.
Predictive audiences can be created from the following:
Lead Gen Form.

Contact list (status must show Ready on your Audiences page).

Online conversion (using LinkedIn Insight Tag).