Meta has announced that augmented reality (AR) is coming to Reels Ads and Facebook Stories. Facebook's parent company broke the news at IAB's NewFront 2023 and said the update will provide "new ways for advertisers to reach customers, increase campaign performance, and measure results with Reels."
A study by Meta showed that AR ads outperformed business-as-usual (BAU) ads by 2% points in awareness, so if that's something that could work for your brand, it's well worth an investigation.
"Now,

we're making it easier for advertisers to reach audiences with AR Ads

by launching roll-out globally in three new placements: Instagram Reels, Facebook Reels, and Facebook Stories."
How do AR ads work?
AR ads offer an immersive experience to users, who can do things like try on jewellery and browse stores as if they're inside the shop. Some AR ads utilise the user's front camera to allow them to do things such as try on sunglasses or apply a few different shades of lippy.
The key is to create an interactive experience that engages with your target audience.
Better return on ad spend
There are some clear business benefits to AR ads, even if the studies come directly from Meta. It said that ads with an AR effect outperformed 'traditional' ads by 87%, when targeting for incremental ad recall among 18-24 year-olds.
In the study we mentioned further up the page, Meta found that the results were delivered with eye-opening efficiency.
"Crucially, these results were achieved with greater efficiency: The campaigns that incorporated AR effects had a 5

9% lower cost for driving awareness

compared with the BAU-only campaigns."
However, it must be noted that Facebook only collected data from the ads conducted by 10 brands – so it's hardly the largest data-set.
Beauty brand Sephora uses an AR ad that let viewers press their thumb to the screen to generate an "aura vibe" that helps them select a fragrance. 
"After trying the filter in-camera, consumers can visit Sephora's best-selling fragrances to make a purchase.

Sephora saw incremental reach and engagement, with over half the audience being Gen Z."
Jewellery brand Tiffany & Co. also used AR to celebrate the opening of its flagship store (called The Landmark) in New York. The Reels AR Ad let a user browse the store in 'real life'.
"This Reels AR Ad a

llows a person to feel as though they're immersed in the experience of The Landmark

, while enjoying Jean Schlumberger's jewel-encrusted creations."
Meta has upgraded Reels ads
Reels ads are also getting a bit of an upgrade as Meta is determined to make them more engaging and effective.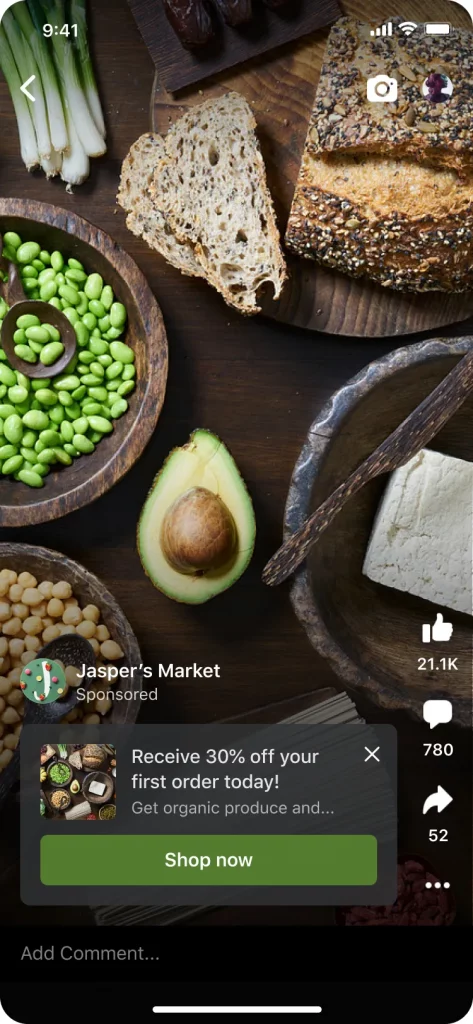 To do that, Meta is testing a larger call-to-action thumbnail that includes more advertiser information, such as a headline and additional business details. Meta says it will "help people that show interest take the next step to click."
New watch and browse feature
The watch and browse feature for Facebook lets users pause your video ad and preview where they'll go if they click on your link.
"Pause and browse is

designed to make it easier for people to click and interact with Facebook Reels Ads

. As a result, businesses may see an increase in click through rate for Reels ads."
Updated Meta Advantage
Creative Advantage is getting a little makeover, says Meta. The company has added a "multi-destination product ad" which lets users swipe through multiple product images without leaving the Reel they're watching.
According to Meta, it will make it easier for users to shop multiple products from your brand. Before the update, users could only see a single product.