TikTok has launched a new free tool that can help marketers create scripts for TikTok videos in seconds.
Called Script Generator, the tool is available to TikTok Creative Centre users with a desktop TikTok for Business Account, and it uses AI to automatically generate scripts for potential videos.
Michael Fee, Lead Product Marketing Manager, TikTok, via LinkedIn

Our team is excited to launch TikTok Script Generator, a free TikTok ad script generation tool that helps advertisers in their creative development by providing script ideas containing hook, body and call-to-action scenes in a matter of seconds. Just provide a few inputs about your brand or product, then let the tool do its magic.
Easy to use and access
All Script Generator requires is a few bits of information about the product or service marketers would like to talk about, as well as the chosen length of the video (15-30 seconds or 31-60 seconds). Once that's been done, a selection of scripts will be generated that contains hooks, a body and call-to-action scenes.
Script Generator could save brands time during the creative processes by accelerating idea generation and script creation. Of course, once a script has been made, it's still up to the marketers to produce the finished product.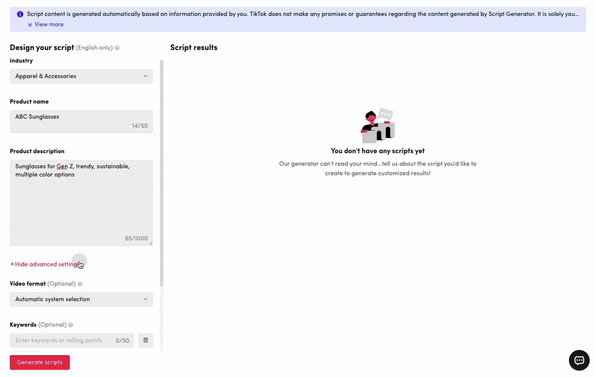 Make edits during or after generation
AI content does run the risk of being generic (or simply awful), so it should still be up to marketers to finesse the AI-generated idea. If the script isn't up to scratch, try to enter a bit more information into the system and then try again. Or, you could take what's suggested and use that as a framework to build your script from the old-fashioned way.
If you'd like to further refine the script, you can make adjustments to your original inputs, such as fine-tuning your product description, keywords or video format, and then regenerate script ideas. Alternatively, feel free to click Copy next to any script and make edits outside of Creative Center.

TikTok's nature leads to less drawbacks
One drawback of this tool is that it will lead to more generic content – which is pretty much what we've seen from AI-generated content so far. However, keeping up with trends on TikTok is so important that sometimes content feels generic anyway – at least, until the next bandwagon comes along. So the nature of the platform could help mitigate some of the drawbacks and increase the value of Script Generator as a tool.
TikTok has also said that it's up to a marketer's discretion whether they use the script generated by its new tool, which should tell you that even TikTok doesn't think the scripts will be 100% accurate or problem-free 100% of the time.
It is solely your decision whether to utilize and/or publish content created using the Script Generator in any ad or other material. You are solely responsible for any content created using Script Generator, including ensuring that such content is accurate and complies with applicable laws and regulations, and this content is not endorsed, sponsored, or approved by TikTok.
Vimeo hot on TikTok's tail
TikTok isn't the only content platform that has embraced AI during the creation processes. Vimeo has recently announced its own AI-led script writing tool, as well as a teleprompter and text-based video editor that will help marketers instantly delete filler words, such as ums and uhs, and long pauses.
Its [Vimeo's] latest AI-powered features… [generate] a polished script in seconds, the opportunity to be more natural in front of the camera with a customisable teleprompter, and the ability to remove any unwanted moments from their videos in just a few clicks.
Vimeo says the new features will help marketers to quickly create video and host virtual events and meetings. However, the tools will need to be paid for as part of Vimeo's standard or pro subscription plan.