In a thinly veiled attack on X (the platform formerly known as Twitter), Australia's national broadcasting agency ABC has decided to shut down all of its accounts apart from:
ABC News.

ABC Sport.

ABC Chinese.

ABC Australia
The discontinued accounts will no longer post but will feature a pinne message telling users where they can access content relevant to them.
Why has ABC cut its X (Twitter) activity
ABC has cut its activity for four reasons. It no longer thinks the platform provides value compared to other sites and believes that X is becoming an increasingly toxic environment for staff to operate in. X is also now more expensive to use, as the only way to earn verification is to pay for it. With more than 56 regional ABC offices across Australia, that could quickly add up.
Finally, In February 2023, ABC closed three program accounts (Insiders, News Breakfast and ABC Politics) and saw an increase in engagement and interaction on posts by the main ABC News account.
We also found that closing individual program accounts helps limit the exposure of team members to the toxic interactions that unfortunately are becoming more prevalent on X. Concerningly, X has reduced its trust and safety teams. Additionally, it is introducing charges which make the platform increasingly costly to use.
Where is ABC shifting its focus?
Its focus will now shift to areas where it can reach a wider audience – namely YouTube, Facebook, Instagram and TikTok. 
"The vast majority of the ABC's social media audience is located on official sites on YouTube, Facebook, Instagram and TikTok, with TikTok forecast to have the strongest growth over the next four years. We want to focus our effort and resources on where our audiences are."
That's a very telling statement in itself. Twitter was essentially built as the place to go for up-to-date news coverage of any event, and the fact that ABC no longer feels it can reach its audiences on the app should be a cause for concern (but it won't be).
In fact, Elon Musk has already attacked the decision, saying in a post: "Well of course they (ABC) prefer censorship-friendly social media. The Australian public does not."
News organisations like ABC could turn to Meta Threads
All of this could be good news for Meta Threads, and ABC is looking into ramping up its presence on the Twitter-like site. According to the Guardian, ABC is testing Threads with a small number of accounts and will consider adding further accounts in the future.
The tests come as some journalists enquired about establishing accounts on the rival platform. If reports begin sharing more updates on it, it could drive more users to the app and away from X. 
Listen up! X's algorithm is changing
For those still using X, some important information has come to light regarding its algorithm. X's feed has continued to evolve since the Musk takeover, and an open-sourced code analysis by one user has shown how replies to posts are getting more exposure than retweets in the 'For You' feed.
The change appears to be made to maximise ad revenue, as adverts are shown in reply threads. It's also how creators earn money, so in theory, it's a change that should be good for the X ecosystem.
On the flip side, boosting replies could lead to more engagement-bait posts and more outrage-bait replies. But regardless, it's something that brands should consider moving forward.
X is also pushing into video content and is looking into subscriptions for creators.
It's also said that it will expand the length of time a post can be shown in the main feed from 24 hours to 48 hours, which could help boost engagement. However, marketers should be aware the latest change means posting links will not benefit post reach.
"Since the algorithm recommends posts based on how much time people spend on them, both video and text content posted on this platform naturally get boosted more than links off platform, as the time spent on a link is short."
So, to summarise: post more replies, investigate posting more video and re-think your strategy around links.
Threads also has shiny new features
X isn't the only platform with a shiny new algorithm as Threads has recently added a few new features.
Threads can now be shared directly into a user's DMs on Instagram, which should help boost post reach and engagement. Custom alt-text will also be available, which lets marketers add descriptions to photos (or edit auto-generated descriptions) before posting which could help with discovery. Presumably, this could help boost reach and engagement.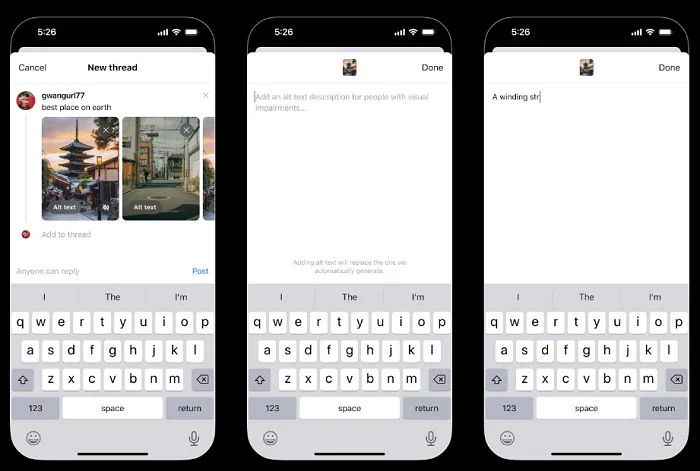 A new 'mention' button is being added to profiles, which will make it easier to mention an account in your post – again, this could drive engagement between Threads users.
Users can now sort a following list by who was followed first/last and viewed liked Threads.
Meanwhile, Threads is closer to integration ActivityPub and support for rel=me links, which will help users verify their profile on other platforms that support those protocols.