Instagram wants to make it easier for users to create Reels by simplifying template discovery and usage. Now, if you have an idea that you want to turn into a Reel but aren't sure how, you can discover high-performing clips and copy the format for your own by using Instagram's Template Browser feature.
Now, you can browse templates by category in the Template Browser, organized by Recommended, Trending, and templates or audio you've saved.
What are Instagram Reels templates? 
Reels templates allow you to easily create a reel by reusing elements from another reel you love. Just drop in your own videos and photos to save time and put your own creative spin on a reel.
Reels templates let brands work smarter, not harder. The ability to copy clip timings from an existing Reel will save marketers time and effort across the whole creation process – from ideation to completion. All you need to do is drop your clip into the template and it'll automatically sync with your chosen audio – leaving you to manually adjust the clips.
Save them and come back later!
Templates can be accessed in the Reels video editor by heading to the Reels tab and clicking on the camera icon. Once you're there, swipe to the Templates tab and search for what you like.
Or, you can repurpose an existing template by scrolling the Reels feed until you find a Reel with a 'use template' button. You can see this above the name of the account that posted the Reel.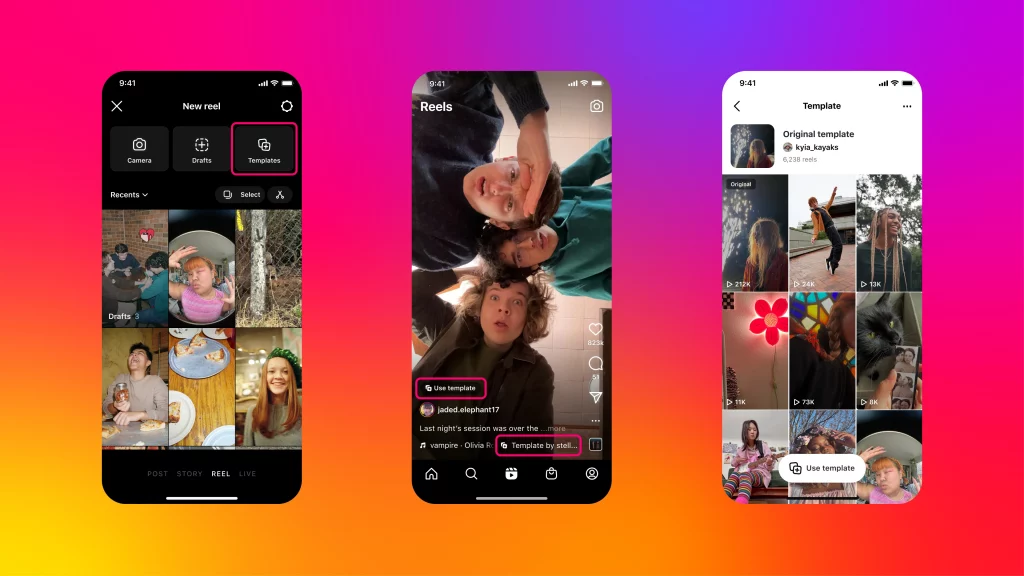 Once you've picked your option, you can then add media to replace the clips in the Reel with footage from your own library. 
You can also save templates for later. Once you see one you like, tap the three-dot menu and press the save button! It'll be ready and waiting for you in your collections when you're ready to create your Reel.
As well as making discovery easier, Instagram is also making it easier to create a Reel from a template.
When you create from a template today, the audio, number of clips, duration of the clips, and AR effects will automatically be added to your reel.

In the coming weeks, we'll also start automatically adding text and transitions that were used in the original reel. Templates will be customisable – allowing you to add or remove clips, adjust the timing of individual clips, or edit any preloaded element.
It would appear as if Insta's grand scheme is to compete with TikTok for the short-form video crown. If it can make it as easy as possible to create content in its format, then it can start to bring people across from TikTok. Not saying this will happen, but you can see the train of thought.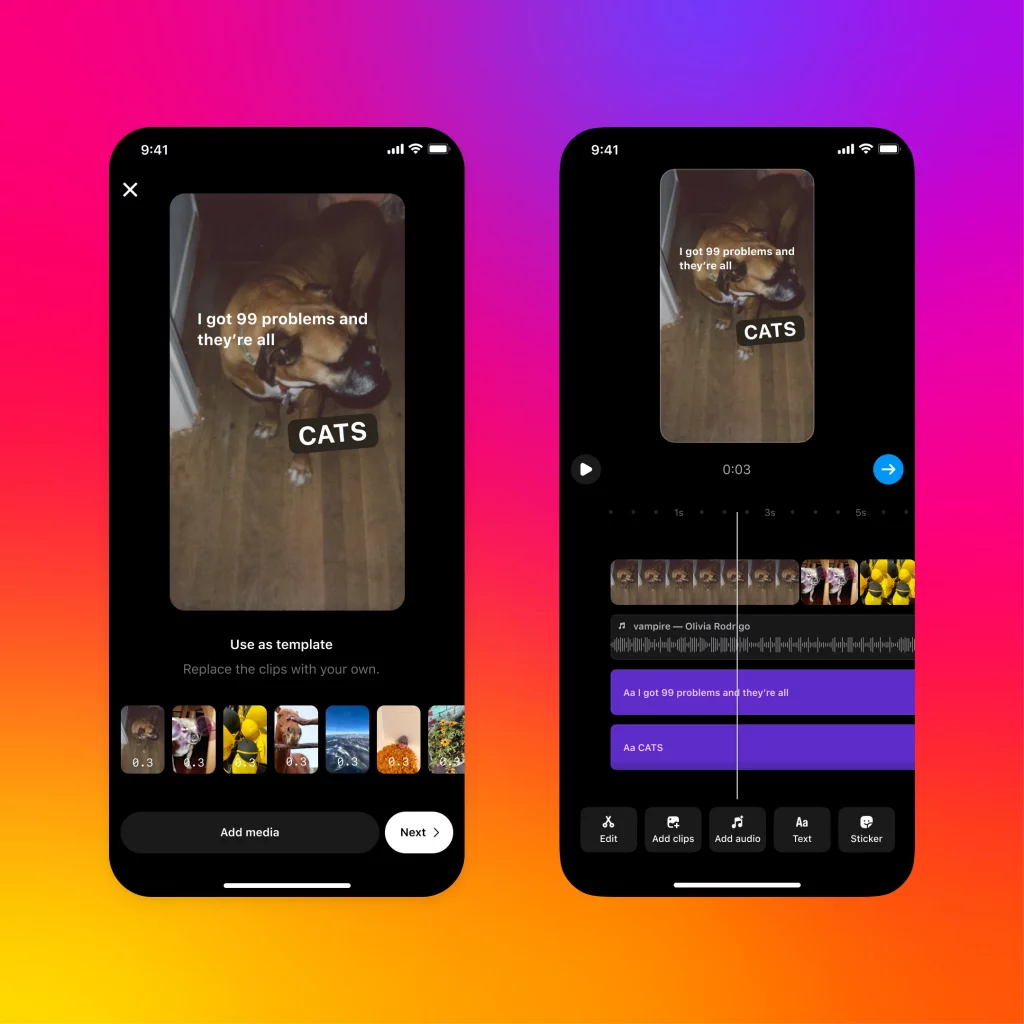 Good… but don't get sucked in
Back to templates, and how they can help marketers. The benefits of using a template is easy to see. It will speed up the content creation process, allowing brands to produce videos quicker and more efficiently than before. It can also help provide a jolt of inspiration to marketers struggling to think of the next big idea.
However, using templates for the majority of your content comes with risks. Your brand will stand out less because your audience will have seen the format or style in their feeds before.
It's worth noting that unique or new ideas often do well in short-form video – and that can pay dividends. That's not always easy to conjure up though. So, to wrap up, templates can be great – but they shouldn't be your whole content approach!