Google's new Demand Gen and Video View campaigns will give advertisers extra ways to use AI for asset creation and ad targeting – and will make it easier for marketers to connect with consumers and drive intent from mid-funnel to purchase.
Demand Gen does a lot of the creative heavy lifting for marketers by automatically resizing video and images into different ad formats, such as Discover, YouTube in-feed, YouTube in-stream, Gmail and YouTube Shorts.
That's important because Google research shows that 91% of consumers took immediate action after discovering new products or brands on Google surfaces such as Discover or Gmail. Therefore, maximising an audience's exposure to your product can only deliver positive outcomes.
YouTube can be especially important as 87% of consumers say it helps them make faster purchase decisions.
Vidhya Srinivasan, VP & GM, Google Ads (Search Ads & Ads on Google Experiences)

With Demand Gen, your best-performing video and image assets are integrated across our most visual, entertainment-focused touchpoints — YouTube, YouTube Shorts, Discover and Gmail. These products reach over 3 billion monthly users as they stream, scroll and connect.
Faster, more efficient ads
That will help marketers increase the breadth of their advertising efforts without increasing their workload, or the workload of their designers. Being visible on more platforms will also help improve outcomes and reach a wider audience, while using Google AI will help optimise ad targeting, which should mean a better return on investment for your ad spend.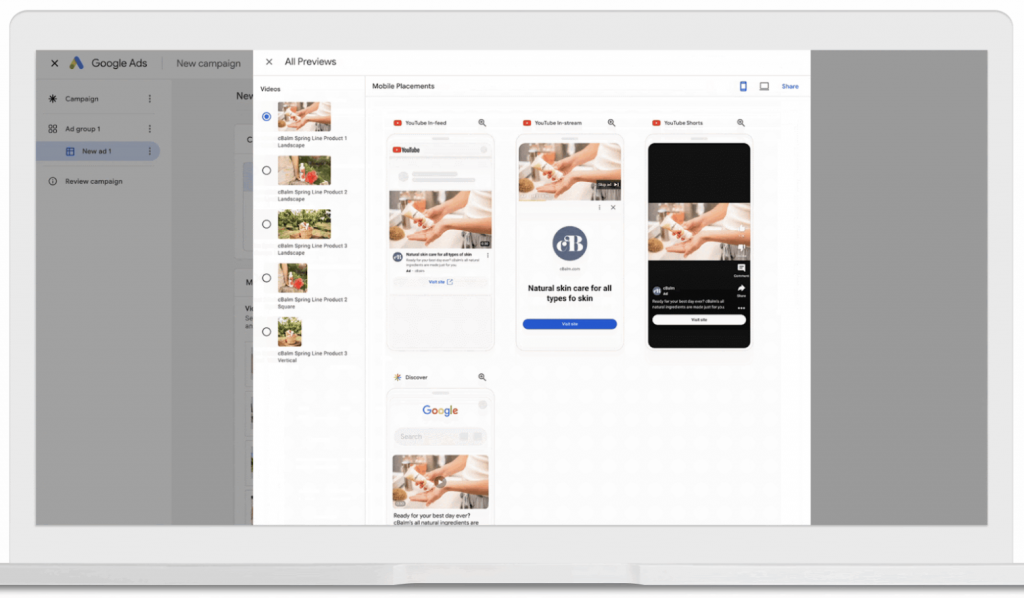 Alpha tester Arcane only had good things to say about Demand Gen.
Anselme Langle, Media Consultant, Arcane, via Google

"We're excited to be among the first Demand Gen advertisers and have found the campaign set up to be seamless, efficient and effect as it opens up more inventory. Demand Gen has given us an entirely  new perspective on Google campaigns as we're now looking beyond performance from format to format and instead comparing it to all social players."
If that sounds like something that could help you, businesses can sign up to join the Demand Gen beta in August.
Google has also launched Video Views campaign, which it says can boost performance by nearly 50%.
Vidhya Srinivasan, VP & GM, Google Ads (Search Ads & Ads on Google Experiences)

With Video View campaigns, brands can maximize views across in-stream, in-feed and now YouTube Shorts, all within a single campaign. In early testing, Video View campaigns have achieved an average of 40% more views compared to in-stream skippable cost-per-view campaigns.
Samsung tested Video View campaigns and achieved eye-catching results. It was able to increase views and achieve 94% incremental reach while reducing CPMs and gaining best-in-class consideration lift while targeting Gen Zers during peak holiday season.
Laura Thissen, Head of Marketing Communication, Samsung, via Google

"[Gen Z's] media consumption behaviour is very diverse, which is why a mix of ad formats were used in combination with YouTube Shorts. This mix was the decisive point for us to use Video View campaigns in the Christmas holiday period."
Improved targeting capabilities
Demand Gen allows brands to manage advertising campaigns across each surface, while audiences can be targetted using Google AI or lookalike segments based on your audiences.
Advertisers can choose to drive connections with existing customers or utilise lookalike audiences to generate demand among new audiences.
Vidhya Srinivasan, VP & GM, Google Ads (Search Ads & Ads on Google Experiences)

For instance, you might choose to drive conversions with existing customers by offering them a discount on a new product line. Or, you could generate demand by driving new lookalike audiences to your site with a special offer to join your brand's subscription program.

AI reporting and evaluation
Google is also bringing AI to reporting and evaluation with AI-driven solutions that let marketers measure the incremental impact of campaigns via brand lift, search lift and data-driven attribution – which should help marketers make better decisions.