After the success of its February 2023 launch, Instagram has expanded its Broadcast channels to creators across the globe.
Broadcast channels let creators and brands talk directly to their audience via posts in a messenger-like platform. Followers can react to content and participate in polls, but they can't message back, which Meta describes as a "one-to-many messaging tool".
Creators can use broadcast channels as a casual, quick way to keep followers up-to-date. They can use text, photo, video and voice notes to share their latest updates and behind-the-scenes moments and even create polls to crowdsource fan feedback.
Create an engaged community
Businesses can use broadcast Channels as a powerful community-building tool as they let marketers engage with an audience in real-time and provide a direct line of communication with followers. 
The more marketers build a community via Channels, the more dividends it could pay – especially as posts don't need to compete with the rest of the algorithm for success. Rather, Channel members will receive a notification when brands post something new.
As members get notifications when you post a message, make sure your messages are compelling. For example, you could use a Channel to announce exclusive deals, product launches or announcements.
You could also use it to gather opinions on products using polls and reactions and ask your audience what they want to see from your brand.
While Channels have only just been opened up to the wider Instagram community, Meta has announced that it'll test them in Messenger and Facebook – so it could pay to get in early and before the rest of the competition.
New broadcast Channels features
Instagram has added question prompts to Channels, which will let chat members contribute directly to the conversation instead of watching, reading and reacting to messages.
The question prompts are displayed as tiles, just like for Stories, which Channel hosts can then decide to reply to.
Instagram is fiddling with adding new controls to help creators manage their Channel.
[Such as] setting an expiration date and time on their channel, adding a moderator to help manage members, messages and content and sharing a link or even a preview to Stories to encourage followers to join.
Additionally, other creators or fans can now participate in a broadcast channel.
Whether it's an expert interview or a casual hangout, fans can now follow conversations between their favorite creators and their special guests.
Finally, Instagram is looking into a channels tab within the inbox, which will highlight the channels a person has joined, and recommend news ones. It's also experimenting with promotion options that will let creators share a preview link with followers to encourage them to join a channel.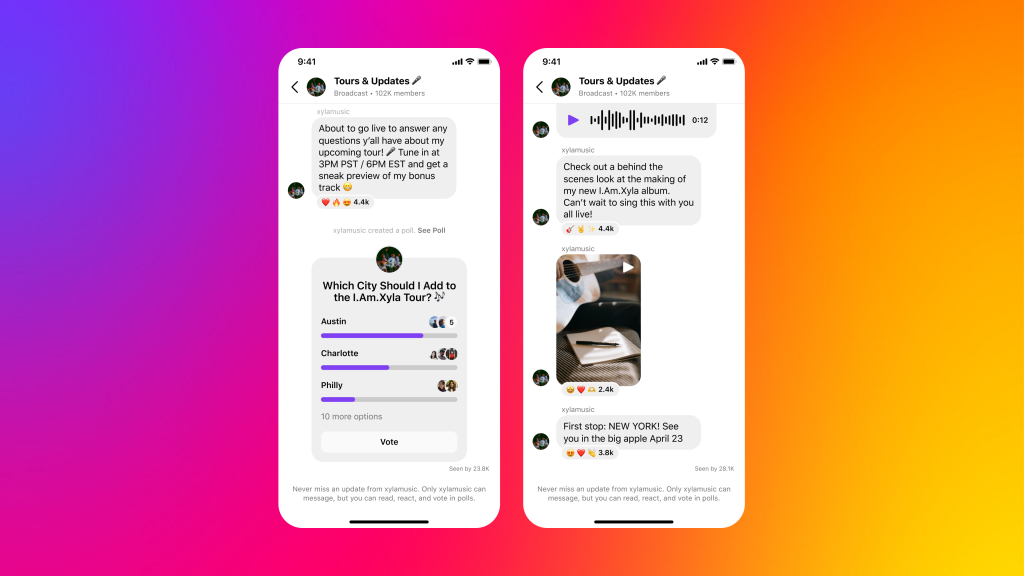 How To Find Instagram Broadcast Channels
Instagram Channels can be found via the DM inbox. Once there, use the search bar to find channels based on keywords or look at the suggested channels to find those Instagram thinks you'll like based on your interests.
How To Create An Instagram Broadcast Channel
To create a channel, head to your DM inbox and tap the 'new message' icon. Once you do that, you should see the option to create a new broadcast channel.
Broadcast channels can seen by followers or by paid subscribers only, while they can also be hidden or displayed for promotional purposes.
After the Channel is created, followers and paid subscribers will be notified about it – so make sure that first broadcast gets people excited about your Channel! 
Recommended best practices: 
Instagram says that accounts should use Channels as a quick, casual way to connect directly with an audience in three different ways.
Share authentic content and behind-the-scenes moments via text, video or voice notes. Accounts can even invite other creators to their channel to chat live, which could be a good way of boosting exposure and engagement.

Engage fans via polls and crowdsourcing feedback or ideas.

Building a community by connecting with engaged fans in real-time.
Furthermore, the more you can market your Channel the better. So that means add a link to your Channel in your bio to increase the visibility on your profile and promote it on your Stories.