Google's scheme for generative AI in ads
Google has announced that it will integrate Search and Shopping ads into its Search Generative Experience (SGE). 
The "natural-language conversational experience" is designed to help with ad campaign creation and will make it easier for marketers to create Search ads. However, only time will tell if the AI is good enough to provide a seamless experience for users.
Jerry Dischler, Vice President and General Manager of Ads, Google

"Simply add a preferred landing page from your website and Google AI will summarize the page. Then, it will generate relevant and effective keywords, headlines, descriptions, images and other assets for your campaign. You can review and easily edit these suggestions before deploying. Now, you can chat your way into better performance — ask Google AI for ideas, just like you might ask a colleague."
Generative AI will assist ad creation via automatically created assets (ACA)
To help assist with ad creation, Google has rolled out a feature called automatically created assets (ACA) for Search ads. Again, this tool uses AI to help create headlines and descriptions for your ads based on your landing pages and existing ads.
In the future, ACA could be used to adapt Search ads based on the context of a search.
Jerry Dischler, Vice President and General Manager of Ads, Google

"For example, with a search for "skin care for dry sensitive skin," AI can use content from your landing page and existing ads to create a new headline that aligns even more closely with the query, such as "Soothe Your Dry, Sensitive Skin." This helps you improve ad relevance while staying true to your brand."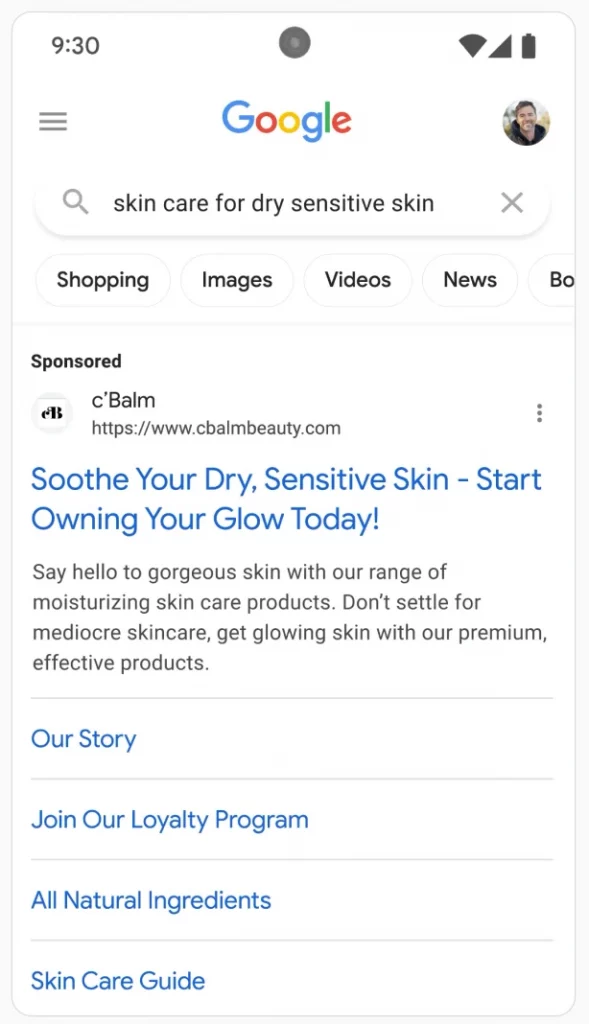 ACA is an opt-in, campaign level setting that helps generate headlines and descriptions that can be used in combination with assets for responsive search ads. The assets are based on your ad's context, such as landing page, existing ads and ad group keywords.
There are a number of benefits:
Increases Responsive search ads performance by creating more headlines and descriptions.

Provides a consistent experience across ad copy, landing pages and queries.

Reduces the amount of manual work required to create ad copy.
Generative AI and Performance Max
AI-powered campaigns are also coming to Performance Max. According to data provided by Google, advertisers who use Performance Max average more than 18% more conversion at a similar cost per action. Generative AI will look to improve that performance even more!
Jerry Dischler, Vice President and General Manager of Ads, Google

"We're bringing generative AI to Performance Max to make it even easier for you to create custom assets and scale them in a few clicks. Just provide your website and Google AI will start learning about your brand to populate your campaign with text and other relevant assets."
AI will even suggest new images for Performance Max campaigns, making it easier to stand out. A new customer acquisition goal will give marketers the chance to use AI to efficiently acquire new customers via Google Ads.
How generative AI is coming to search and shopping ads 
There are also new capabilities coming to Search and Shopping ads. Google says it will experiment with directly integrating them into AI-powered snapshot and conversational modes.
As we covered earlier, if you ask a more complicated question such as "outdoor activities to do in Maui", the AI-powered snapshot can produce a list of key information to consider – while in conversational mode you can ask Google more about the topic you're exploring.
Jerry Dischler, Vice President and General Manager of Ads, Google

For example, if someone is searching for "outdoor activities to do in Maui," and narrows the search further to ask about "activities for kids" and "surfing," they may see a fully customized ad for a travel brand promoting surfing lessons for kids.
Search ads will continue to be labelled with the 'Sponsored' tag in bold black text, so there should be no confusion regarding what's a search engine result and what's an advert.
All-in-all these are exciting times to be a marketer and AI-powered adverts will bring with them opportunities. However, as with any new technology, remember that your efforts won't always pay off. Allowing yourself to live and learn, therefore, is the best way forward.