AI is everywhere right now, and it's no surprise to hear about Google making a big play in the market. From its AI-supported ad tools to YouTube, Google is pushing artificial intelligence across the whole library of Google platforms.
AI has now made it to YouTube, and at Google Marketing Live 2023, marketers were given a rundown of how their YouTube advertising could benefit from a splash of artificial intelligence. 
"Combined with your expertise and creative vision, our AI-powered solutions give you exciting new ways to improve your creative assets, launch video campaigns that drive high-impact results, and understand how suitability settings impact KPIs."
In short, there are three new areas that will be interesting to advertisers.
AI tools that expand YouTube creative assets
Fighting for a viewer's attention has never been harder. People frequently use multiple screens at the same time, and as a result, it's never been more important to produce stunning creative.
However, that also takes a lot of time – which many advertisers don't have. Luckily, AI can help speed up the creative process by generating horizontal, square or vertical video ads using existing assets.
It can also reformat a horizontal video into a vertical one – which is perfect if you want to target YouTube Shorts viewers on mobile. YouTube says that its AI can pick out important elements in the landscape ad and reformat it to ensure the video is displayed correctly.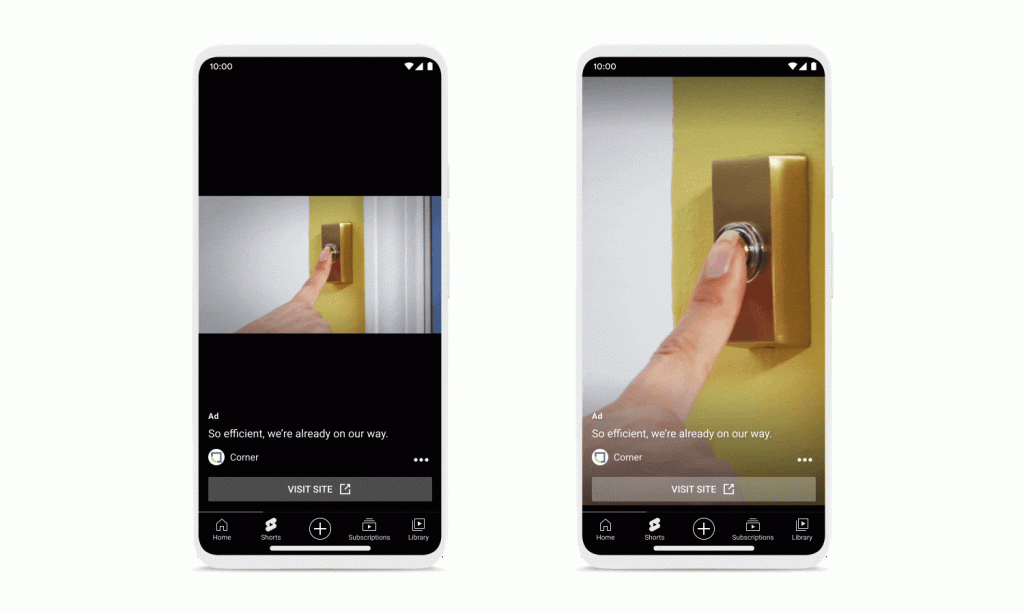 "You can even add voice-overs to your videos using Google's text-to-speech technology. Google AI also works hard behind-the-scenes to improve the quality of your image assets on YouTube by increasing image resolution and using smart cropping to resize images to best suit the context they appear in."
Using AI for creative assets can help streamline the creative process while producing content in formats that are proven to be popular. It will also help improve the effectiveness of campaigns by re-formatting existing assets for different formats.
AI helps markets reach more formats and screens
Using AI, marketers can create video campaigns that deploy ads across YouTube's in-stream, in-feed and Shorts formats across devices such as desktops, TVs and mobile.
The mix of formats is based on a marketer's inputs – while the new Video action campaigns helps to drive actions and conversions. If you want to drive awareness, the Video reach campaigns use AI to serve the most effective combination of ads to help to drive actions and conversions.
More broadly, Video reach campaigns let marketers target more unique users with your entire message, use a mix of ad formats and optimise in real-time and provide more flexibility to use multiple ad formats together.
AI-powered advertising is helping marketers gain more opportunities to connect with an audience across YouTube.
Earlier this month, we announced that we're adding in-feed video ads and expanding Shorts into Video reach campaigns for efficient reach to bring more opportunities to connect with your audience across YouTube.
Greater understanding of suitability
Impact forecasting is coming to Google Ads, which will help marketers understand how suitability settings for YouTube ads impact performance. The forecast will let marketers make informed decisions about their suitability settings, and potentially lead to improved results.
"Account-level content suitability settings let you opt out of showing your ads on or alongside certain websites, videos, channels, and mobile apps that may not be the right fit for your brand."
Your brand may have changed who it's trying to target or may decide to take a new approach. Without updating your suitability settings, you may be missing out on an audience that you'd like to show ads to.