Head of Instagram Adam Mosseri has published a new overview of how ranking algorithms work which could help marketers understand how to optimise reach and performance across Instagram.
Different strokes for different folks
The first thing that social media managers need to understand is that there isn't one, grand omnipotent algorithm. Instagram consists of a variety of algorithms, processes and classifiers that have their own purpose.
Adam Mosseri, Head of Instagram

"People tend to look for their closest friends in Stories, use Explore to discover new content and creators and be entertained in Reels. We rank things differently in these different parts of the app, and have added features and controls like Close Friends, Favorites and Following so you can further customize your experience."
With the above statement in mind, here's an overview of how each part of Instagram decides what to display, when and who to.
How Instagram ranks Feed
The purpose of the Feed is to help you see posts from friends, family and interests. As a result, the Feed will be a mixture of accounts you've chosen to follow, ads, and content Insta recommends because it thinks you'll like it.
Instagram looks at recent activity, such as what posts you've interacted with and what media type they are. Broadly, there are four main signals that Instagram uses:
Activity such as posts you've liked, shared, saved or commented on.

How many people have liked the post and how quickly people are liking, commenting, sharing and saving it.

Information about the person who posted it to see if they'd be interesting to you.

Your history of interacting with someone.
Then, Insta makes predictions based on how likely you are to interact with a post in different ways.
Adam Mosseri, Head of Instagram

In Feed, the five interactions we look at most closely are how likely you are to spend a few seconds on a post, comment on it, like it, share it, and tap on the profile photo. The more likely you are to take an action, and the more heavily we weigh that action, the higher up in Feed you'll see the post.
The takeaway here is that the more interaction people give you, the more chance you'll have of your content appearing in their feed. So, focus on producing stuff that draws in your audience and makes them like, share or comment.
How Instagram ranks Explore
Explore was designed to help people discover new content on Instagram. It's made up of content recommendations from accounts you don't follow.
To find good content to recommend, Instagram looks at past activity and then orders prospective content based on how interested you may be in each one based on how likely it thinks you are to interact with it. 
The main signals Insta looks at are:
How popular a post is – how many likes, comments, shares and saves does it have?

Posts you've previously liked, saved or shared that you found in Explore.

History of interacting with that person, even if you don't follow them.
How many times people have interacted with that account in the past few weeks.
Again, Explore is about interactions – although the good news for marketers is that you can reach people who don't follow your page via this feature. Content that resonates with your audience has a good chance of ending up here.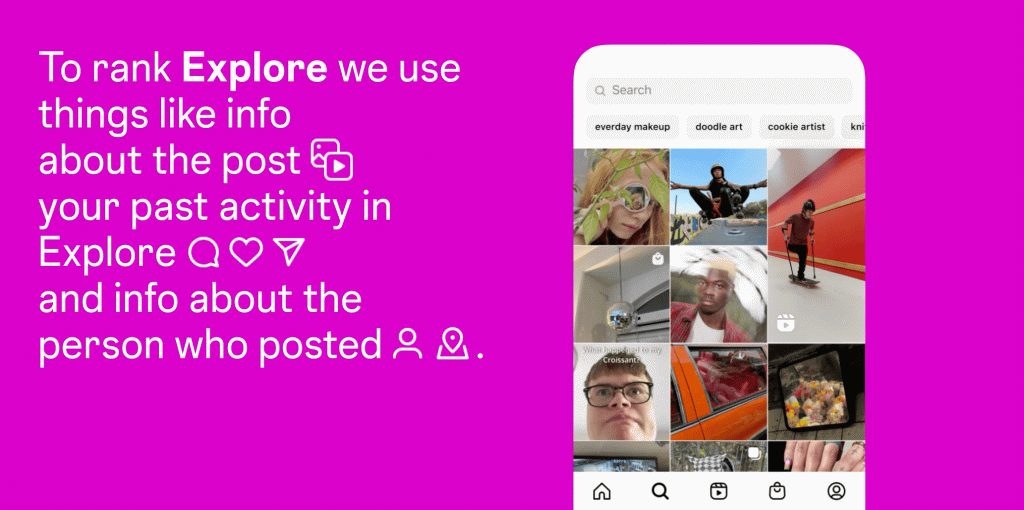 How Instagram ranks Stories
You only see Stories from people you chose to follow, as well as ads inserted between different sets of Stories. Stories are ranked in a similar manner to Feed.
Viewing history – how often you view an account. Stories from often-viewed accounts are prioritised.

Engagement history, such as liking a Story or sending a DM.

How likely it is that you're connected with the poster as a friend or family.
Adam Mosseri, Head of Instagram

"Based on these signals, we make a series of predictions about stories you'll find more relevant and valuable – including how likely you are to tap into a story, reply to a story or move on to the next story – to determine which stories will be shown higher in your stories tray."
How Stories are ranked means that engagement is king – so keep yours full of clickable links, polls, quizzes and fun stickers!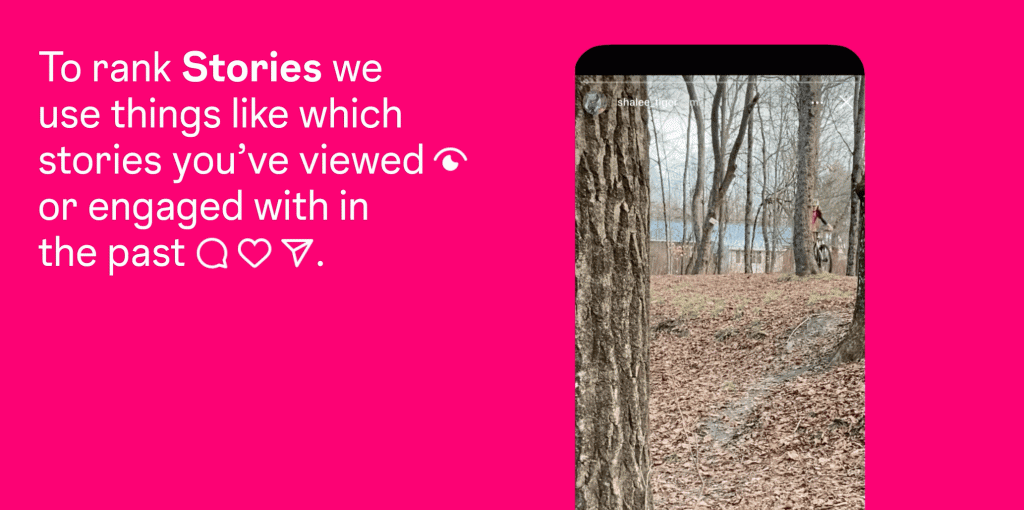 How Instagram ranks Reels
Reels are ranked in a similar way to Explore. Reels are also designed to help people discover new things that you'll find entertaining.
Instagram will find Reels it thinks you'll like, then order them based on how interesting it thinks they are. The important factors are how likely you are to reshare a reel, if you watch it all the way through, if you like it or if you go to the audio page.
Here's some more important signals.
The Reels you've liked, saved, reshared, commented on or engaged with.

How often you've interacted with the person who posted it, even if you don't follow them.

Information about the reel, such as its audio track and popularity.

Popularity signals from the poster, such as number of followers or level of engagement.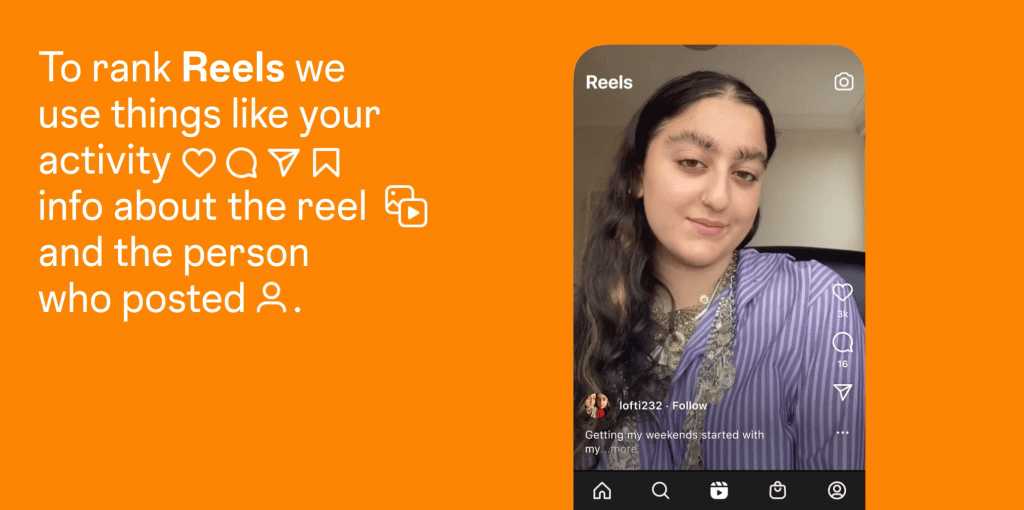 It's also important to make sure that your Reels contain no watermark – such as a TikTok one – and make sure they're in high resolution. Also if your Reel is muted, contains borders or consists mainly of text it won't rank well.
Aside from that, Instagram wants to help people understand why some content doesn't get as much distribution to non-followers.
Adam Mosseri, Head of Instagram

"We're experimenting with new notifications to help creators understand when the reach of their reel may be limited due to a watermark, and plan to expand to more people as we learn what's most effective."