Instagram has expanded Reminder Ads, which lets users opt in to receive reminders for upcoming events, to include new features to help brands reach a wider audience.
Reminder Ads new features
Reminder Ads' new features are:
Reminder Ads can now be shown in Stories, which will help to increase visibility and improve ad efficiency through the additional placement.

Reminder Ads can be created directly in Ads Manager, an update that removes the old requirement of only using organic posts as a base for the ads.
The ads were originally only available for placement in-feed and for organic posts, but as we can see both requirements have been removed which will make life much easier for marketers interested in running this ad format.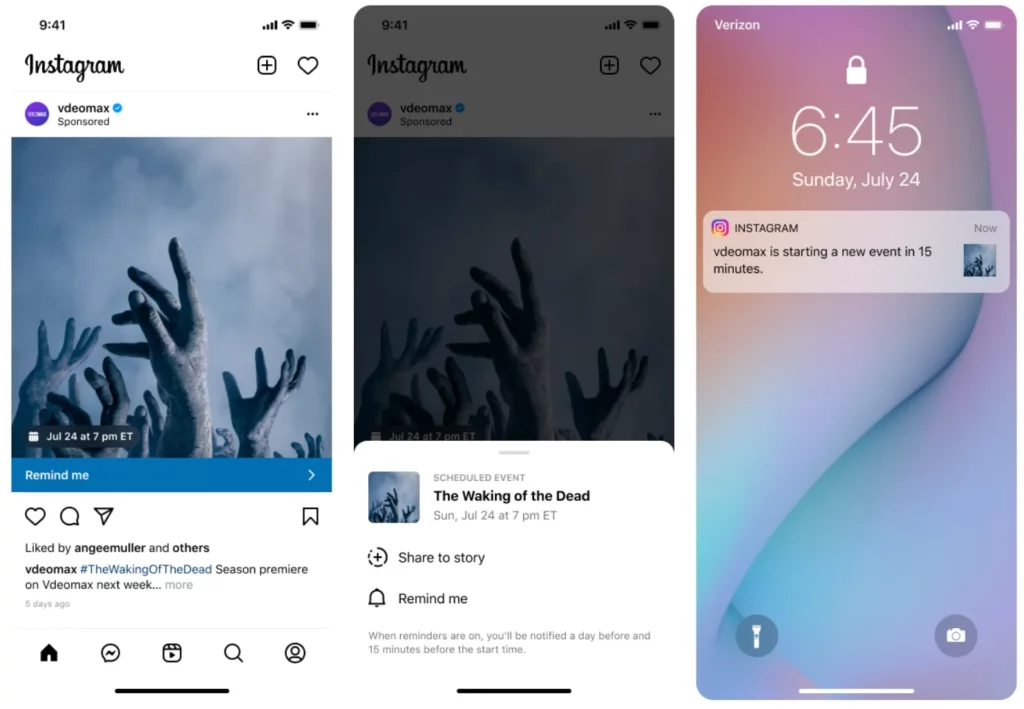 How to set up Reminder Ads on Instagram
Reminder Ads can be created directly in Ads Manager by following these steps:
Go to Ads Manager.

Select Create.

Select Engagement as an objective and choose On your ad as a conversion location.

Select Reminders set as the engagement type.

Select Maximise reminders set as the performance goal.

Select Continue and fill in the detail for the ad set. In the Schedule section, make sure the ad ends one day before the event or launch. In Placemenets, choose Advantage+ or Manual placements.

Select Continue.

Fill in the details for the ad.

Select Create ad, then select Add media or Create video.

In the call-to-action section, Remind me will be selected.

Select from your previous events or create a new event.

Select Publish.
Once they have been published, they will send people who have signed up to receive alerts three reminders: one on the day before the event, one 15 minutes ahead of it and one as your event begins.
Create a sense of excitement!
The ads can be useful for event promotion by raising awareness, and then hyping up an event as the clock ticks down towards it. Generating a sense of exciting and FOMO can be really good for event engagement, so this type of ad could be well worth your consideration.
Instagram also has a feature that lets you create Instagram posts with reminders for an event – however, this is only available to professional accounts.
"As a creator or brand, you can create Instagram posts with reminders for your upcoming events, such as performances, TV show premieres or sporting events. People who see the post can tap on the bell icon in the bottom left-hand corner of the post to opt in to receive reminders for your event. You can add a reminder to a branded content post and a post with product tags. You can also share a post with a reminder to Stories."
Posts have to be created at least one hour before an event, and at most three months prior. Event time will be set in the local time zone of the device that's been used to create the post, but users will see the time in their local time.
Here's how to do that:
Create a new Insta Feed post.

Under New post, tap Add reminder

Add your event title and start time.

Finish post creation and click Share.
People who view your post can then decide whether they want to see a reminder for the event. If they do, they'll get one 24 hours prior, 15 minutes prior and at the time of the event.
"After you've added a reminder to a post, you can create additional posts with reminders for the same event. Select Add reminder and choose one of your existing events from the list, instead of adding new event details."