Meta has announced a host of changes that'll help make content marketers' and advertisers' lives easier – and could lure more creators to its platforms. This will present its own opportunities for brands to run more impactful influencer and partnership campaigns.
New music optimisation in Facebook Reels
One of these tools is a test of music optimisation in Facebook Reels, which is designed to help advertisers design more entertaining and engaging single image Reels ads.
Nicola Mendelsohn, Head of Global Business Group, Facebook

We know that Reels ads with both music and voice-over show a +15-point statistically significant higher average positive response score than those without sound and that's why we want to make it easier to source, select, and add music during the campaign creation process via Creative Editor or in Advantage+ Creative.
Free, high-quality and diverse music is available from the Meta Sound Collection library. All marketers need to do is select which music they want from the library, and it will be automatically applied to a single image ad. That should provide a quick and easy way to enhance the dynamism of ads without forcing them to undergo major surgery.
Further expansion of Reels Ads capabilities
Since launchings Reels ads in 2022, Meta has expanded its capabilities as Reels' popularity has increased across Facebook and Instagram. Now, more than two billion Reels are shared every day – while users across both platforms now spend more than 50% of their time watching short-form video.
To match the rise in popularity, Meta has made ads on Reels available to more creators and in more ad formats – such as app promotion, which helps advertisers increase mobile app discovery.
Also – as Reels' popularity has grown, the greater its importance is to marketers who advertise on social media. If that's you, don't get shy – jump on the short-form bandwagon as soon as possible!
Easier creative process with new templates…
To help content marketers with Reels creation, Meta has added an Inspiration Hub in the Professional Dashboard. Housed in the Inspiration Hub is the Reels Composer, which is a one-stop shop for Reels templates.
The new Templates Hub in the Reels Composer displays popular, trending and quality templates that you can use to easily create reels.
To avoid producing replicas of a Reel your biggest rival just published, Marketers may want to use the templates as a guide and for inspiration, rather than as a script. Despite that, this is still a handy tool to be aware of and could help during the creative process.
…and a streamlined editor
Anyone who's tried to edit Reels on a mobile device knows it can be a fiddly, frustrating process. Well, Facebook wants to make that process easier and has combined audio, music and text into one editing screen.
The move should make it easier to lay out various elements and position them just so, and could save marketers time and frustration! As you can see from the image below, all three tracks will be visible at once, which will allow an editor to see exactly how they'll link up with one another at the same time.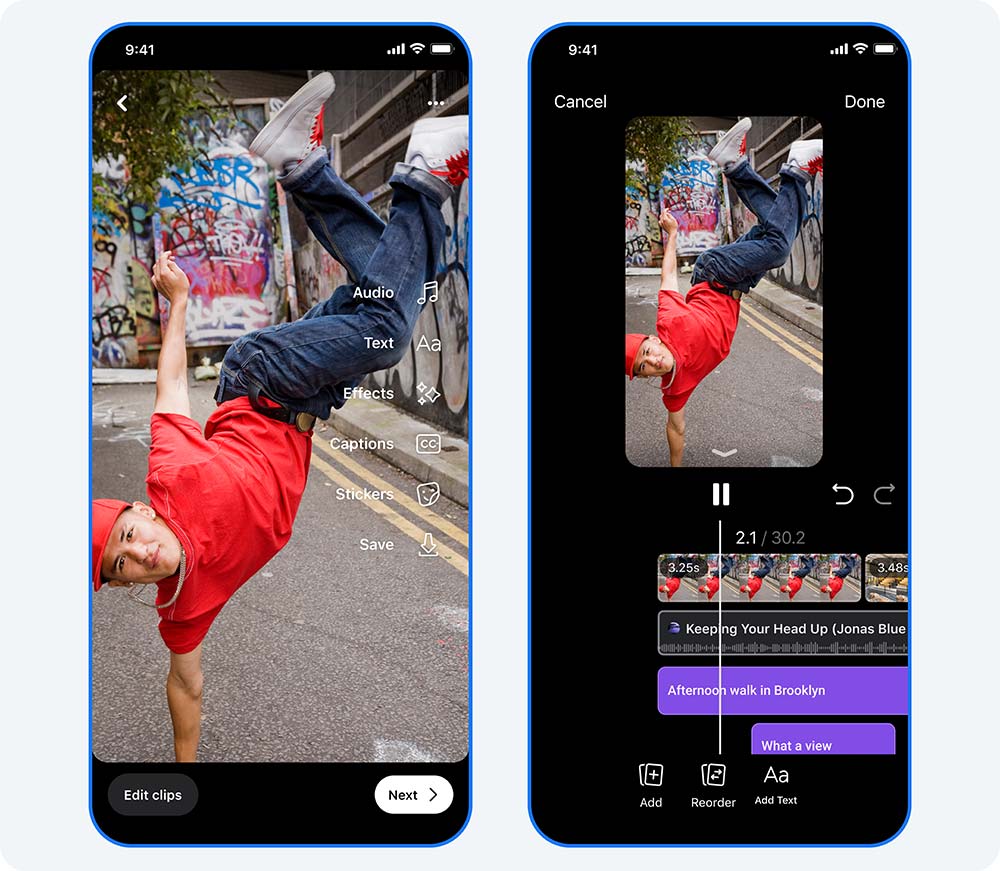 Exposure boosting features for creators and brands
Alongside those tools that marketers will find useful, Meta is also helping creators boost exposure on Facebook by adding a 'Creators to Follow' unit in Feed – while creators using Professional Mode will have a follow button pop up next to their name in comments. Additionally, Professional Mode creators can use ads to boost their Reels.
There's also more good news for time-poor content marketers as Meta is testing a feature that will let them cross-post Instagram Reels and Stories to Facebook, which will provide increased opportunity for growth and engagement for no extra time and effort.
Cross-posted content on Facebook will show the linked Facebook handles of the creator and tagged business partner, along with the Paid Partnership label. On Facebook, we've also reduced partnership ads eligibility requirements, so that creators on Pages can give their brand partners permission to run ads from their Facebook page. These ads also tag the brand partner, bringing more reach and scale to their collaborations.
Meta is clearly putting significant resources into making Reels a popular, successful format for creators, advertisers and viewers. If you haven't thought of how your ad campaigns can benefit from short-form video, maybe now is the time to.