After introducing Meta Verified for creators earlier in 2023, Meta is expanding its verification program to businesses on Facebook, Instagram and WhatsApp.
Verification will come to Facebook and Instagram first, before rolling out to WhatsApp – although Meta hasn't said when it will be available on that platform.
What is verification for business?
Verification helps let customers know that they're chatting with a legitimate business and should help brands add more authority to their account. A Meta Verified business subscription includes a verified badge for your profile, impersonation protection, access to human account support and features that'll help the business stand out.
It's pretty much the same as what's on offer on X – although at a more affordable price point. To be verified on the app formerly known as Twitter, businesses need to be spending $1,000 a month on ads, which will be beyond the reach of a lot of small businesses. 
Many brands have already decided that paid-for verification on X dilutes the reputational value that they provide, and the same thing could happen with Meta's platforms, too. Although this is clearly something that Meta isn't too concerned with.. for now.
How much does verification cost?
At the time of writing, it costs $21.99 USD/month per Facebook page or Instagram account, or $34.99 USD/month for them both at the same time. There is no pricing available for WhatsApp as Meta is still testing that feature.
Businesses will be eligible as long as they meet requirements such as minimum activity on their page and minimum tenure of business account. They must also have two-factor authorisation turned on. However, Meta didn't go into specifics regarding what the minimum activity looks like.
Once you are verified, businesses are not allowed to change their name or profile picture, and later down the line, if you want to change your business details you will need to go through the verification process again – so it's important to keep that in mind if you're considering verification.
Increased reach and human support
According to Meta, being verified will come with improved discovery via better placement in search results and recommendations to users in feed. Meta also says that verified subscribers will be included at or near the top of search results.
"A Meta Verified business subscription complements the existing free and paid tools available to businesses on our apps today. We're starting with subscription features that help small businesses achieve what they want most on the platform: to establish their brand and be discovered by new customers."
That could be useful for businesses looking to increase exposure and reach among their audience – however, if anyone can purchase a blue tick and the benefits that come with it, then those search results may start to become overrun with companies all after the same thing.
There is also access to account support to help with troubleshooting issues – although digging done by The Information says that some verified businesses haven't been happy with the availability of human support.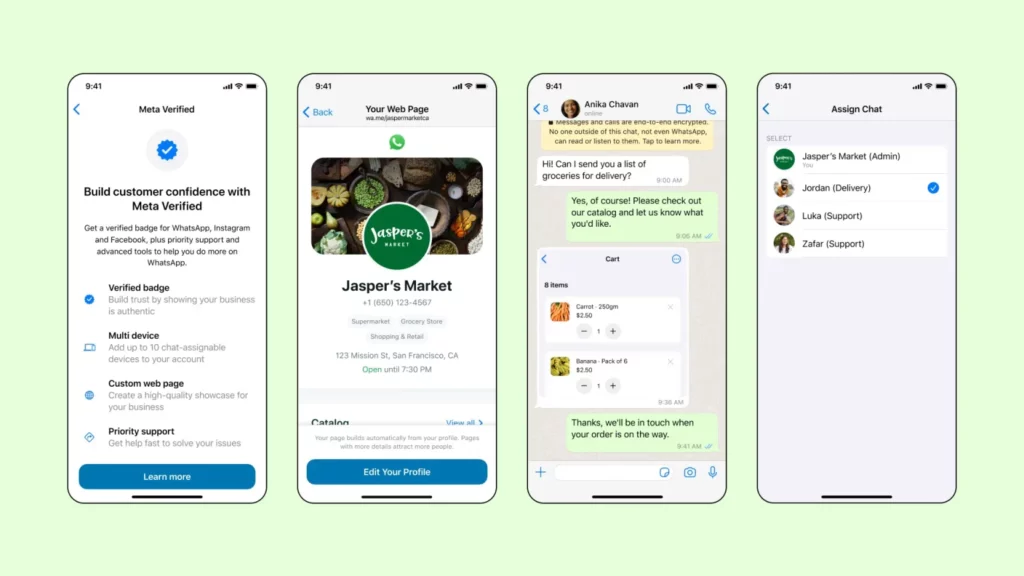 WhatsApp users can make the most of additional features such as the ability to create a custom WhatsApp page that is discoverable via a web search, as well as multi-device chats so that multiple employees can respond to customers.
Being verified also comes with safeguard options for brands to make sure that the companies it verifies are legitimate. As well as the eligibility requirements already outlined, applicants must verify their connections to the business using methods such as a phone number, email or domain.
Additionally, Meta says it will proactively monitor for business impersonation.