Meta has gone big on its claims for Christmas and New Year 2023 by saying it will herald "the first AI-powered holiday season". It plans to do this in the form of bid multipliers, budget scheduling and a whole host of other options aimed at giving advertisers more control over campaigns and new tools to help businesses earn more money across Facebook and Instagram.
"With these tools and our existing AI-powered Advantage suite, businesses can tap into incremental performance gains to ensure they grow profitably this season."
AI-powered tools such as the Advantage suite automatically connect audiences with the most relevant ad creative that's most likely to drive a sale – and Meta is testing features that let advertisers share what they value most to pump up the return of the campaigns generated by the Meta robots.
Greg Merwede, Senior Director, Tapestry, via Meta

"Having additional controls within Advantage+ shopping campaigns has allowed us to realize additional performance gains with the audiences that matter the most to our brand."
The new tools Meta mentioned include a time-based budget scheduler designed "to help advertisers better optimise their budgets" at specific times, such as during peak traffic or special promotion time periods. Meta is also testing another variation, which lets advertisers set different budgets for specific audiences.
"With budget scheduling, advertisers can choose to increase their daily budget to maximize promotional and sales opportunities."
The feature lets advertisers automatically increase their budget during specific times – such as on the weekend – before the AI returns the campaign budget back to normal once the timeframe has passed.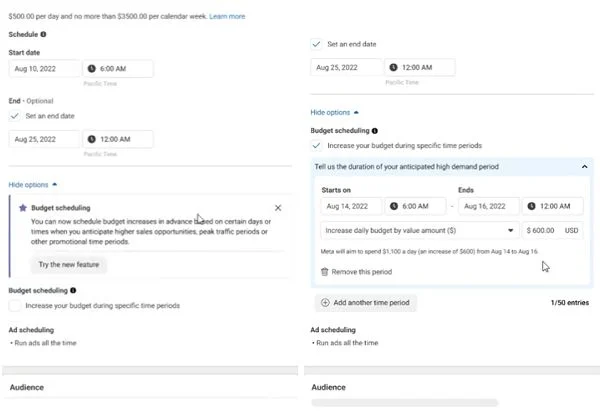 The budget scheduler should be a handy way to maximise campaign reach without needing to manually update the budget at certain time, saving time and efficiency for brands.
Promotional ads will now be available to more advertisers in the U.S, U.K, Canada and Australia. These ads help brands to put their best offers in front of customers by making it easier to find and apply discount codes.
"By making it easier for people to use promo codes, businesses can see better conversion from their ads and encourage people to purchase after discovering a new brand or product. In fact, consumers (41%) find ads showing relevant products or discounts the most influential in their purchase decision."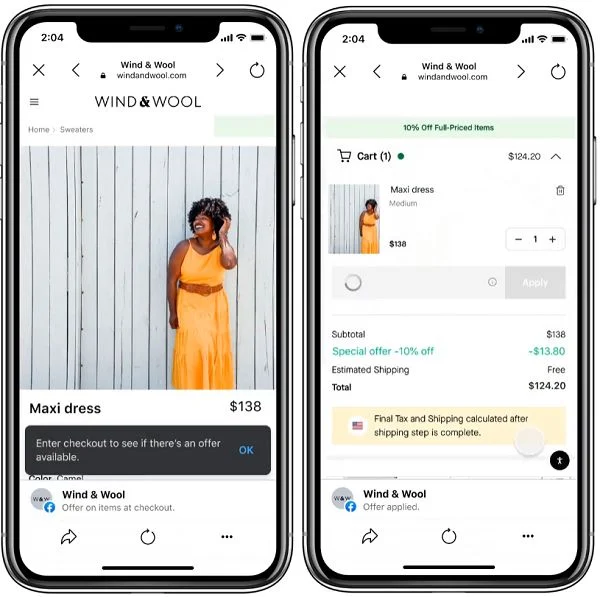 As you can see from the screenshot, once a user clicks on a promotional ad, they are guided through checkout with the discount automatically applied.
Additionally, Meta has made it easier to create Reminder ads – which will help advertisers build awareness, anticipation and consideration for brand events like a new product launch or a seasonal sale.
"Today with Reminder ads, people can opt into reminders and receive three notifications from an Instagram post one day before, 15 minutes before and at the time of the event."
It's also easier than ever before to create Reminder ads as advertisers can upload create in Ads Manager – while placement has been broadened to Stories, which should help increase the reach of the ad.
Finally, Shop ads have been tweaked to let a customer make a purchase without leaving Instagram or Facebook – which should drive purchases by making it easier for people to part with their hard-earned money.
To make it all work, Meta is testing integrations with Adobe Commerce, Magneto Open Source and Salesforce Commerce Cloud – partnerships that add to the library of tech companies plugged into the Meta system such as Shopify, BigCommerce, Feedonomics, ProductsUp, GoDataFeed and ChannelAdvisor.
If the new updates make Meta a better place to browse products and shop for them, it'll help push Facebook and Instagram as shopping destinations – which is good for the brands that trust them with their advertising dollars, and will ultimately help drive revenue.