Google Ads has rolled out a new AI-powered ad campaign called Demand Gen, which will be available to all advertisers from October. The Discovery ads replacement uses images and video ads to help advertisers hit their campaign goals and is designed for advertisers who use social platforms to connect and convert consumers with attention-grabbing visual creatives. They can be used across YouTube Home, Search and Watch Next, Discover, YouTube Shorts, YouTube in-stream and Gmail.
Ginny Martin, Google Ads Liasison, via X

"Demand Gen campaigns combine image + video ads in one place and can be used to drive conversions, site visits and actions like sign-up and add-to-cart across YouTube, Discover and Gmail."
A phased rollout
Advertisers can sign up for the beta here, and those with active Discovery campaigns running will have them upgraded to Demand Gen if they enrol in the beta. From October, accounts running Discovery ads can upgrade them to Demand Gen. Finally, in early 2024 all Discovery campaigns will be automatically upgraded.
Peak performance
Google says Demand Gen drives performance beyond what Discover ads can deliver.
"According to a Google/Ipsos survey, 1 in 3 consumers say they have purchased something on Google feeds—like Discover and Gmail—that they were not originally shopping for. Demand Gen campaigns offer a suite of powerful new features designed especially for the needs of today's social marketers."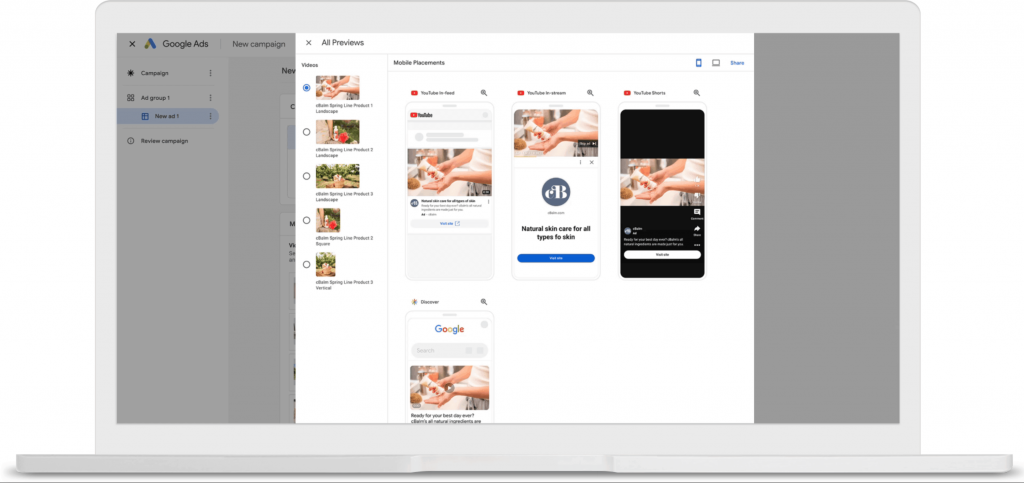 New bonus features
Demand Gen comes with a range of new features, too, such as the ability to engage audiences with a variety of ad formats including carousels, portraits, short-form video and square images within the same campaign.
Advertisers can also use Lookalike segments to broaden the reach of campaigns. 
"Bring your first-party data and we'll match it with Google's audience intent and interest signals to help you find new customers similar to those who already engaged with your brand."
Demand Gen can be optimised for conversions, or it can be optimised for site visits or actions via Maximise Clicks bidding.
It also lets advertisers preview ad campaigns before they are shown to the whole world, while placements can also be optimised via A/B testing.
Packed with benefits
The updates will come with a range of different benefits. For one, being able to see how ads will look across several touchpoints will be great for brands – especially ones which keep a keen eye on brand guidelines.
Maximise Clicks bidding should also help drive high-value customers to your website, while A/B testing will let advertisers use data to make informed decisions about the direction of their campaigns.
The video-first nature of Demand Gen should also help those interested in making the most of YouTube and Shorts – says advertising guru Sam Tomlinson on X (Twitter).
Sam Tomlinson, PPC Expert and SMK Speaker, via X

"Video-first… feels like Google trying to effectively compete with TikTok & Meta for additional demand generation dollars. And objectively, I think that's a good thing for advertisers – more competition is good. YT-only campaigns can be difficult.

I've been incredibly bullish on YouTube Shorts, and the ability to include those placements (alongside gmail + discover) is HUGE for many advertisers."

No need to set them up
Marketers with Discovery campaigns (who have enrolled in the beta) will have them transitioned to Demand Gen automatically – which includes all historical data and learnings. Then, marketers who wish to be upgraded to Demand Gen can contact their Google account team in October. Those without a Google account team will need to wait until November to have their Discovery campaigns automatically upgraded.
Finally, if you weren't upgraded in November you'll need to wait until January (or as long as March 2024) before being automatically upgraded.