Meta has upgraded its Ads Library to include the option to track branded content campaigns. The feature, called Search Branded Content, lets marketers search the Ads Library database by platform, date range and username.
The new feature can be found on the front page of Ads Library, making it easily accessible. 
Comprehensive Branded Content Search features
Search Branded Content allows marketers to discover which campaigns an individual influencer has worked on or find out the influencer campaigns a brand has run, as well as the influencer(s) associated with each campaign. The data will also provide insights into how often competitors are running influencer campaigns, and the time between each one.
Marketers can search across posts, stories, videos and Reels on Facebook and Instagram that involve a Paid Partnership. There will also be an option to filter by app and date. Tech savvy brands can also make the most of the API – which lets marketers build out their own search of all the branded content in the Ad Library.
An EU-compliance decision
The move seems to have been brought about by enhanced privacy regulations as part of the EU DSA, which requires companies like Meta to be more open about paid promotions to protect customers better. Despite the fact that EU law only applies for EU users, Meta has released the update for all Ads Library users.
Research, action, execute
Being able to research the type and frequency of branded campaigns an influencer has worked on could prove to be incredibly useful background research, while the ability to look at the branded content campaigns a brand has run will let marketers see who competitors are collaborating with – which could help plan and execute future work.
Any extra data that marketers can use to help them make informed choices regarding marketing campaigns is useful – while the data discovered could also serve as inspiration further down the track.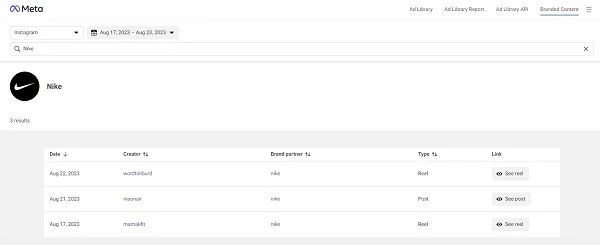 How Meta defines Branded Content
According to Meta, branded content is content for which a creator has been paid.
"Branded content is content for which the creator has been compensated, either with money or something else of value, by a brand or business partner. This may include when products and services have been gifted for free."
Meta states that creators must tag a brand or business partner when posting branded content – no matter if the content has been posted on a personal or business account.
Any branded content post will display the "Paid partnership with…" label above a post, so it's clear to the audience that the post they are seeing has been paid for.
Branded content is different to partnership ads, which are created in Meta Ads Manager. Branded content is designed to appear as an organic post by an influencer who has been paid to promote a product or service, while partnership ads take branded content and transform it into something more like traditional adverts.
Read this before you get your hopes up
While this new feature has clear benefits to marketers, there is one downside. If you're expecting to be able to see every piece of branded content your competitors have published over the last five years, prepare to be disappointed. Meta has stated that only branded content posted on or after 17 August 2023 will appear in the search function.
"You can find branded content posted anywhere in the world on or after 17 August 2023, that's currently available on Facebook or Instagram. You can find information about who created the content, when it was created and which brand partners worked with the creator."
Furthermore, not all branded content will be visable who don't have a Facebook account. 
"To see some branded content, you will need to confirm your age and location by logging in to your Facebook account and making sure that your Facebook account is in the same Accounts Centre as your Instagram account."