Meta is adding tools to Whatsapp Business that will help businesses connect with customers more efficiently.
One of these tools allows brands to launch Facebook and Instagram ads without needing an account – all that's required is an email address and a way to pay for the adverts.
"When people click on an ad, it opens a chat on WhatsApp so they can ask questions, browse products and make a purchase. These ads are one of the most powerful ways to drive potential customers to message them on WhatsApp and this will open new opportunities for WhatsApp-only small businesses that need a simpler way to get started with advertising."
The ads will include a WhatsApp CTA, which will help drive potential customers to your messaging channel. It could help boost brand exposure and open up new opportunities for direct conversations with customers.
Over the past few years, we've seen the way people communicate with each other on social media change. Feed posting is out and direct messaging is in, which is good news for WhatsApp. While it's always been big in areas like India, it's growing at a significant rate in North America and that should make marketers pay attention.
Direct connection can be a valuable tool for marketers, and with WhatsApp becoming more popular, it's worth thinking about how it can be incorporated into a marketing effort.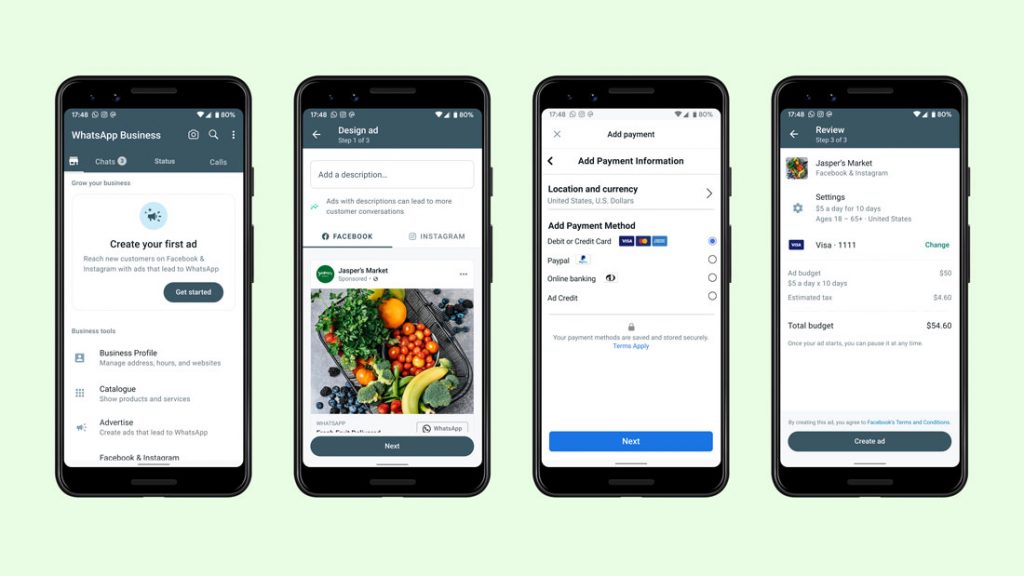 What is WhatsApp for Business?
WhatsApp Business is a free-to-download app for iPhone and Android. It was built with small business owners in mind and allows them to automate, sort and respond to messages from customers.
It can be used exactly as a personal WhatsApp account. Additionally, WhatsApp Business users can:
List important information like an address, email and website in a profile.

Lebal chats to organise and find them easily.

Use messaging tools to respond quickly.
Marketers can get stuck in to the new offering via the WhatsApp Business home page, where they'll see an option to advertise on Facebook and Instagram. Then, design the ad, add creative and your payment details and you're good to go.
How to set up Click-to-WhatsApp ad campaigns
Ads that click to WhatsApp can be placed across Facebook and Instagram Feed, Stories and Marketplace. Marketers can use them to support lead generation, sales and marketing efforts.
If that sounds like something you're interested, then follow these steps:
Create a business account by downloading the WhatsApp Business app or integrate with the WhatsApp Business API.

Connect your WhatsApp account to your Facebook Page and make yourself the admin of the Page, or connect your WhatsApp number to Business Manager.

Once that's done, go to Ads creation from Ads Manager.

Chose your objective.

Choose your budget and click 'Next'.

Under 'conversion location', select 'messaging apps'.

In the 'messaging apps' section, select 'WhatsApp'.

Under 'ad type', select 'click to message'.

For ads using the engagement objective, in the Accounts section, go to WhatsApp and select the relevant WhatsApp number from the drop-down menu.

Choose your audience, placements, budget and schedule, and click 'Next.'

Select your ad format and complete your ad setup.

Click + Create to create your flow. Click 'save' and finish when you've finished.

Click 'publish' to publish your ad.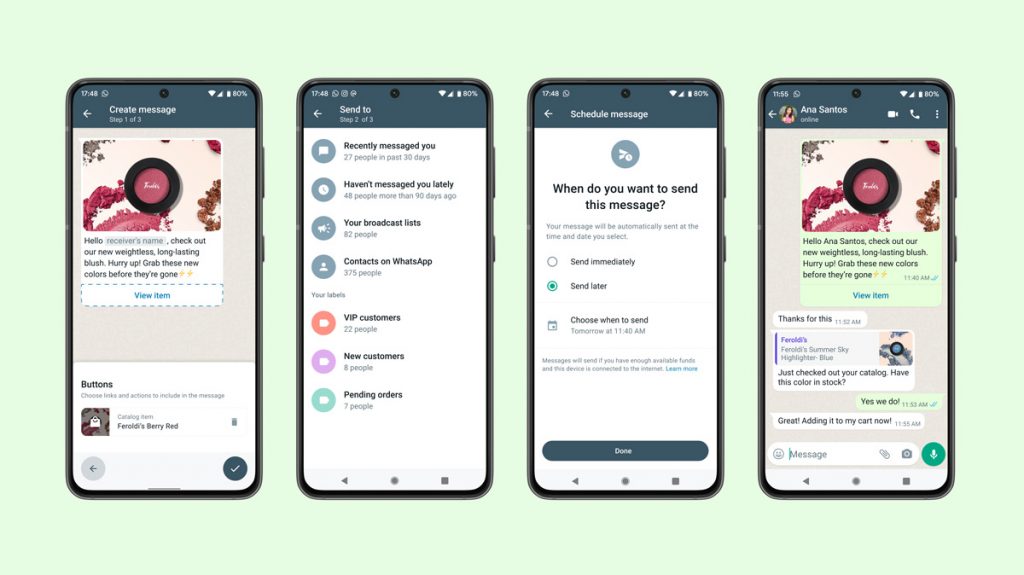 Meta is making it easier to contact customers via WhatsApp
WhatsApp is also testing a way for businesses to send personalised messages to customers, such as birthday greetings, sale notifications or appointment reminders. 
Rather than having to manually send the same message to multiple customers, this new feature will give businesses the ability to send personal messages with the customer's name and customisable call-to-action buttons.
Marketers can sort customers into list such as 'new customers' or 'VIP customers', says WhatsApp, schedule the time and day messages are sent and view analytics to see what's working and what's not. 
The feature could provide a useful way to re-engage old customers and tempt them to buy from you again. However, marketers should be warned that this feature won't come free.
We'll offer this advanced, optional type of message for a fee in the WhatsApp Business app. We'll have more details to share in the future.