Where TikTok leads, Reels will normally follow and so it has proven true… again… as Instagram has confirmed to Tech Crunch that it's testing 10-minute videos after reverse engineer Alessandro Paluzzi shared some very interesting screenshots.
#Instagram is working on the ability to create #Reels up to 10 minutes long 👀 pic.twitter.com/jQTUM9fPsM

— Alessandro Paluzzi (@alex193a) August 30, 2023
Reels is fairly late to the game as TikTok expanded the maximum allowable length of videos to 10 minutes in February 2022, which obviously, will let it compete more with YouTube's full-length offering. Now Instagram is determined to spoil the party as well.
To get around the previous post length limited, creators have been uploading longer videos in two or three parts, which requires a bit of digging on behalf of viewers to find and watch the right video in the right order. Happily, the change will eliminate the need for that workaround.
Potential for upgraded influencer marketing
The change will let creators have more time to explore different themes within their content, such as tutorials, demos and creative ways to market products and services.
Longer-form videos could help influencers form deeper relationships with their audience, which can help businesses when it comes to influencer marketing. It could also present an opportunity to place products more easily in creators' lives.
Ali Fazal, VP, GRIN, via Protocol
"It [long videos] opens up so many more opportunities for creativity between brand creator partnerships, going beyond the typical pay-to-post."
Of course, having the options available to try something new is always nice – but it doesn't mean that every business should run off to create 10-minute long mini-series. Short, snappy content will always have its part, but now it can be complemented with longer video, if and when appropriate.
TikTok and longer videos
While TikTok has been offering 10-minute videos since February, there has been some confusion about its commitment to the format as the 10-minute recording option has been removed from some people's interface.
Social Media Today poured a little light on the subject.
TikTok Spokesperson, via Social Media Today

"We have not removed 10 minute videos – users can still upload videos up to 10 minutes. There was an earlier experiment that allowed select users to also record videos up to 10 minutes from the TikTok app, but that has since ended."
That means users can still upload 10-minute long videos, they just can't record them directly from the camera function in the app. The move suggests that users didn't really respond to being able to record 10-minute long videos directly in the app, and if they were uploaded to TikTok, they were edited somewhere else.
That makes sense, because a video that long will need to have a narrative that holds it all together, and some form of polish to take the viewer on a journey, which is hard to do when you're recording it all within the app.
But long videos can also be a challenge
For brands, longer video formats can present a challenge. For a start, it will take longer to make each video. Who does that responsibility fall on? Is it the marketing manager, or will extra money need to be spent on outside production? Budgets could be stretched in a way that wasn't on the radar with a 90-second clip.
You've also got to have a solid narrative and a compelling storyline, and an audience willing to sit through that to watch a video created by a business which aims to sell you something at the end of it. How many brands have an engaged audience like that?
The latest engagement-boosting move
10-minute Reels aren't the only thing Meta is working on to help boost engagement. A new feature lets creators share comments on their posts or Reels to Stories.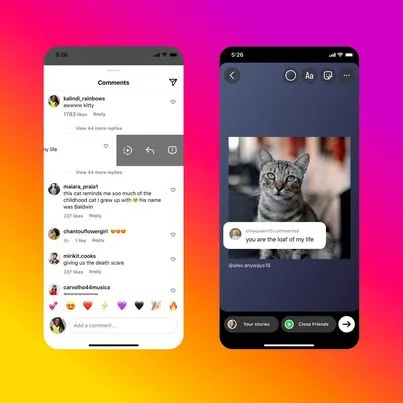 Adam Moserri, Head of Instagram

"We're testing the ability for public accounts to share comments from any public feed post or Reels to their stories. The idea is to help creators highlight important or interesting comments from fellow creators or fans."
Creators part of the test can swipe right on any comment they want to share, all they have to do is tap the plus sign surrounded by a dotted circle. Sharing comments should help boost engagement and help brands build a deeper connection with audiences.