Is social media marketing a misunderstood profession? Many people working in the industry would say 'yes'. 
And so, to help businesses understand the field a little better, Hootsuit has created a report on what it's like to work in social media management. The report explores areas such as salaries, career progression, mental health, happiness and hardship and much more.
The survey collected responses from 3,842 respondents across 13 industries. 55% of the people who answered questions were social media workers, while the rest were in management or above.
Hootsuit conducted primary interviews, and data was supplemented with research by the U.S. Burea of Labor Statistics and LinkedIn, among others.
Pay and prejudice
Let's start with the good stuff up front – pay. It's a subject that makes some people uncomfortable, but now we're going to discuss it.
Hootsuit says that social media marketers only get paid around $67,858 US – but more than half received a bonus of around $6,470 to supplement that.
The top earners in the field tend to be founders/owners, VPs or C-level execs ($120k+) followed by those with 15+ years of social media experience ($100k+). The utility industry is the highest-paying field ($90k+).
Unsurprisingly, those with strong backgrounds in communication (such as english, journalism or media degrees) tend to earn above $75,000 USD – while big companies tend to pay more.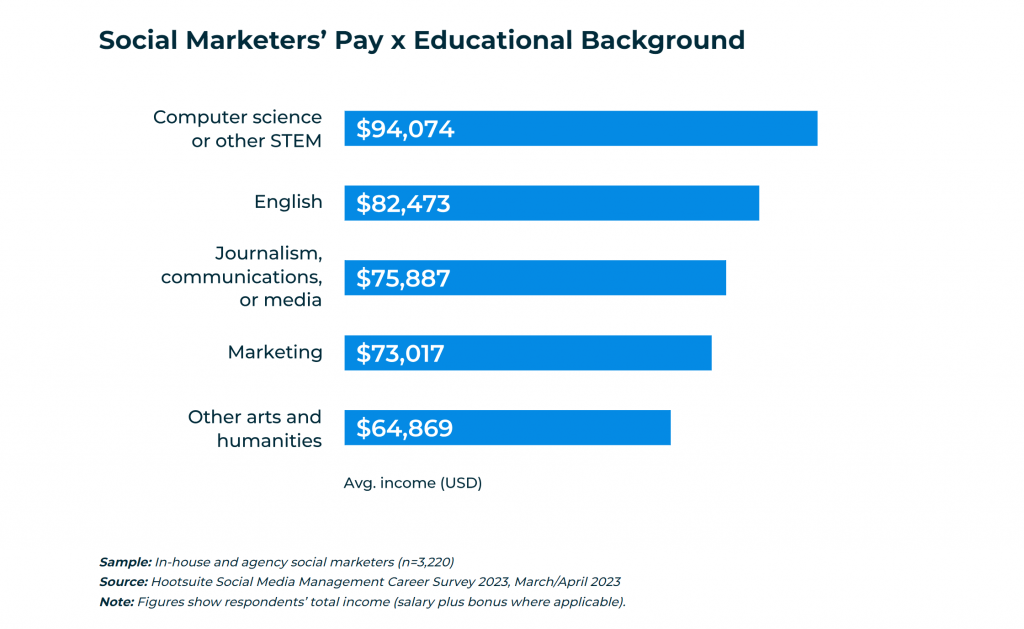 The report does show that those with more experience earn more money, meaning there's a clear path for career progression that should make social media workers happy.
Sadly, women in social make ¾ of the income of men – so business leaders, this is your chance to check your numbers and make sure the gender pay gap doesn't exist in your business.
Happiness and hardship
The bad news for bosses is that 66% of social media marketers feel overworked, nearly 50% say they feel underappreciated and roughly the same number feel like they don't have the resources available to do their job properly. That should be a pretty big eye-opener for businesses, especially those that value their social channels.
However, the good news is that social marketers who spend 90% of their day in the role are happier – as are 83% of those who work for large (1,000 staff+) or more organisations and who worked as part of a larger group of social media workers.
Those who work remotely (72%) feel like they have a better work-life balance, closely followed by those with a hybrid arrangement (71%) – helpful data for bosses undecided whether to force employees back to work or not.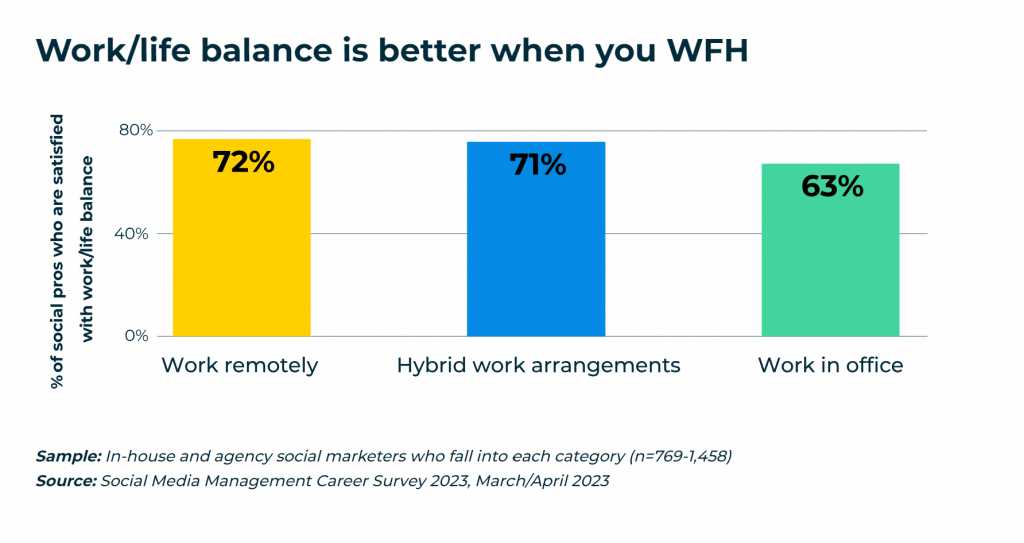 The takeaway here is to avoid loading up your talent's day with too many non-social tasks and to give them the support required to lead a healthy, happy life at work, and outside it.
Team and tasks
Surprisingly, the people surveyed didn't actually spend that much time working on socials. They're busy – super busy – writing copy, shooting and editing images or video, creating ads as well as campaign strategies and looking at analytics. In fact, nearly 66% say they have too much to do.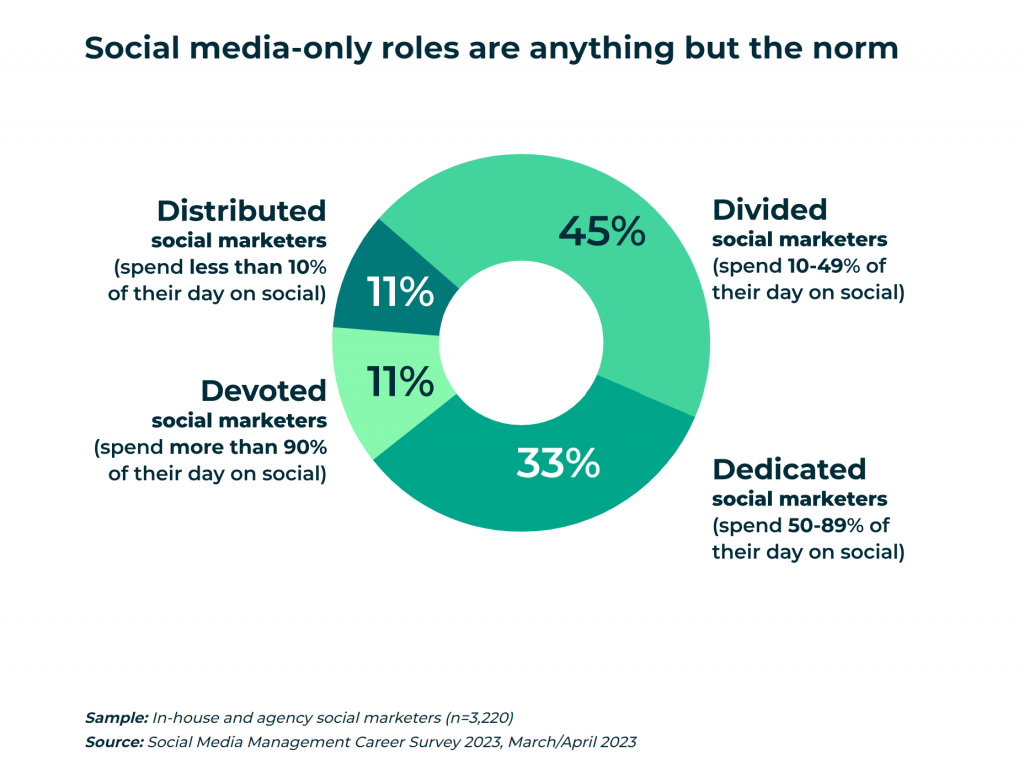 "[The] groups… more likely to feel bogged down because they're expected to carry out more non-social responsibilities—like PR and communications, email marketing, web design, event planning, and admin—on top of all their social tasks."
Commonly, businesses have just one person dedicated to social media – and remember – those who sit on larger teams are happier, so that's something to consider as businesses look toward the future.
Career progression
As mentioned up top, the majority of social media workers feel underpaid and think that bosses don't understand or appreciate what they do. The solution? Like a lot of things in life, you've got to ask for it. 75% of those who asked for a raise got one, and 81% of those people were happy with it!
In terms of career progression, the gender pay gap is holding women back. More than 50% have never been promoted while working in social media.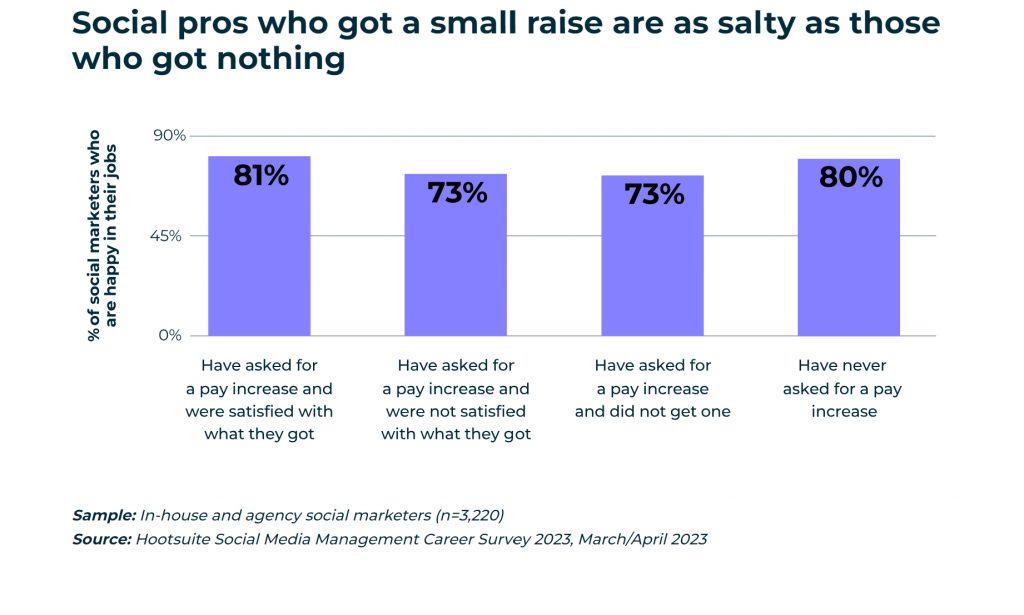 "Men who sit on social teams of four or more people are 22% more likely than women who sit on the same size teams to have been promoted."
The gender pay gap is an area businesses need to investigate, and make sure they're not guilty of.
Now it's time to talk about the bad stuff. Around 20% of social media managers say the work negatively impacts their mental health. Feeling underpaid and working long hours directly contributed to those issues. Fortunately, the fixes are easy and don't require too much brain power to imagine.
Bosses can have a tremendous impact on their workers' mental health. Pay people what they're worth and respect the work-life balance and, and this report highlights, you'll have happier staff doing a job they love. And that's good for business.