For marketers looking for new ways to connect with their audience on LinkedIn, there is some good news on the way! LinkedIn is making its Thought Leader Ads and Conversation Ads more widely available from July. 
Both ads should help brands to help make more human connections with an audience; Conversion Ads prompt users to start a chat with you directly from an ad, while Thought Leader Ads help marketers to promote content from verified employees to showcase industry expertise.
What are Thought Leader Ads? 
Thought Leader Ads can help a brand stay engaging and relevant to its audience by using employee experience to market itself. As only verified employees can have their content boosted, users will be able to see a more human side to the brand and can even reach out to the author if they want more information.
You can use thought leader ads to promote content from executives and employees of your company, which can increase your reach and help you meet your brand goals.
Before you rush off and start planning some Thought Leadership Ads, there are a few things you should be aware of:
To be verified, a person must have the company they work for set as active and their current job in their LinkedIn profile.

To promote a post from an employee, they must have a public profile and their employer must match the company page associated with the ad account.

The person setting up the campaign must have direct sponsored content poster permission approved for the company page of the post they're promoting.
Thought Leader Ads seem to be working, too. LinkedIn says that early performance figures from the beta saw a 1.7x higher clickthrough rate and a 1.6x higher engagement rate compared to other single-image ads.
To start using Thought Leader Ads, you need to create a new campaign or edit your campaign to create new ads for an existing single image ad campaign.
Once you've either created a new campaign or edited your campaign, follow these steps:
Go to the 'Ads in this campaign' page in Campaign Manager. Either select a new campaign or an existing campaign.

Click the 'Browse existing content' button.

In your content library, select the desired employee.

Select the desired post and send them a sponsor request.

The employee will receive an email notification for approval. They can also revoke permission at a later time.
It's important to note that there are some limitations to this type of campaign. They can only be used for brand awareness and engagement objectives, are only available through single image ad format, you can only send five requests to each thought leader, there is no CTA button available and it's not possible to duplicate a Thought Leader Ad.
Conversation Ads
Conversation Ads can be used to start a chat with a customer directly from an ad. 
"Pages Messaging will help power a two-way conversation, so when a member has questions about a product or company, they can reach out directly to the brand through their Page."
Conversation Ads can be used to deepen engagement by using multiple call-to-action buttons, while marketers can understand users intentions via detailed click reporting.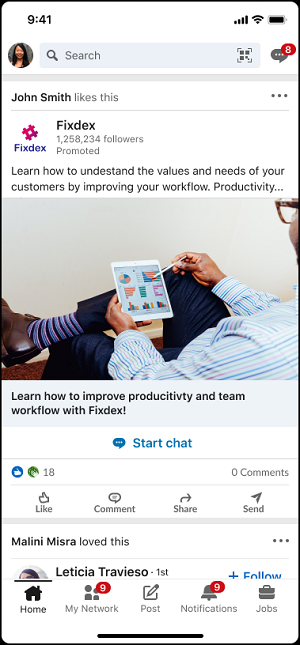 AJ Wilcox, Founder, B2Linked, via LinkedIn

"You can approach someone with a message and then let them choose a pathway and have what feels like an authentic conversation. It endears people to you. It's much more authentic and has performed extremely well."
According to LinkedIn's testimonials, Conversation Ads provide a way for users to pick how they interact with a business – which results in higher engagement and better ROI. It also has the potential to increase clickthrough rates and cut cost-per-click.
Gyanda Sachdeva, VP of Product Management, LinkedIn

"We're tapping into the power of storytelling with a new format that will enable you to promote individual employee posts, with their approval, from your company Page, helping you more effectively engage with your audiences and humanize your brand."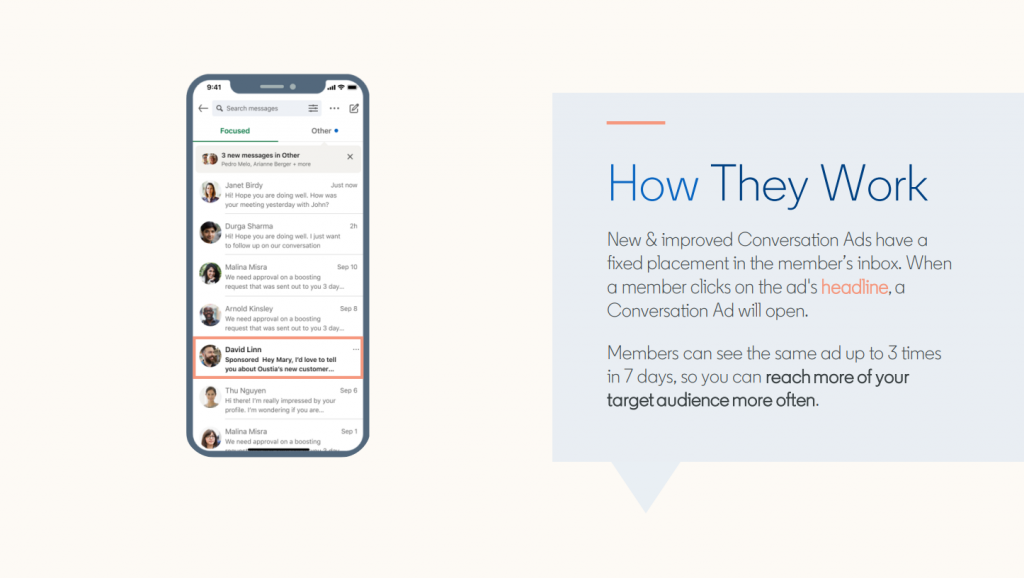 To get started, go to your Campaign Manager and create a new campaign. Then, pick your objective.
Next, pick which conversations you want to start. LinkedIn says that for brand consideration objectives, share a customer success story. To generate leads, create a conversation that invites prospective customers to an event or a webinar.
Then, use the Campaign Manager to get insights to how your campaign is performing.
It should be noted that Conversation Ads are not available for EU ad campaigns.