Reels now account for more than 50% of the time people spend on Facebook and Instagram, while the short-form videos are being re-shared at a rate of 2 billion per day – a number that has doubled over the past six months.
Reels consumption doubling
In fact, Reels have become so important that marketers are going to struggle to maximise engagement and reach without them. So, it would make sense to spend a little time and money reaching your audience through the format.
To help brands tap into the rapid consumption of Reels consumption is rapidly growing, Meta has announced an expanded and enhanced suite of Reels ads.
First up, more brands can now run image ads directly on Reels content without interrupting the user's video. That should be seen as good news for many, especially as Meta has a laser focus on making short-form video work on its app.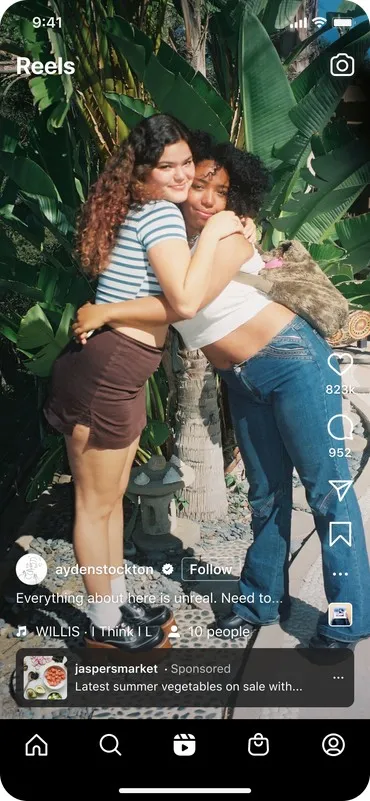 Reach more people
Ads on Reels are a way for creators to earn money for creating and sharing engaging public Reels – and a way for brands to interact with their audience. Creators are paid for the performance of their Reels, not the earnings of the ads on the Reels, which Meta says will help them focus on creating engaging content.
Ads were initially launched on Reels in 2022 and since then, Meta has expanded it to allow access to more creators. It has also introduced more ad formats, which has let brands jump on the Reels bandwagon.
Changes coming to Reels ads
Part of those changes is the introduction of app promotion ads (which used to be called app install ads) to Facebook and Instagram Reels. Meta says this will "help businesses reach more people and grow their user base."
Nicola Mendelsohn, Head of Global Business Group, Meta

With the increase in time spent on mobile devices and a highly saturated app marketplace, it can be challenging for many businesses to get their mobile app discovered. With so many people using Reels everyday to discover new creators, products, and businesses, introducing app promotion to Reels can help advertisers break through a noisy marketplace and reach people open to discovering new interests.
Music optimisation is coming to Reels
In another ad development, Meta is testing music optimisation in Facebook Reels to help advertisers make single image Reels ads more engaging and entertaining. The Meta Sound Collection library has a diverse, free and high-quality selection for marketers to pick from, and Meta wants to make it easier for everyone to source the right music for their ad in either Creative Editor or Advantage+ Creative.
Ads with audio perform significantly better than ones without, according to a Meta commissioned study. Therefore, it's well worth taking the extra time to pick the right music for you and your audience.
Nicola Mendelsohn, Head of Global Business Group, Meta

We know that Reels ads with both music and voice-over show a +15-point statistically significant higher average positive response score than those without sound.
New controls and verification
Finally, Meta is beginning to test its brand suitability Inventory Filter as well as third-party verification solution with its partner, Zefr.
Nicola Mendelsohn, Head of Global Business Group, Meta

We've spent many years working closely with partners in the industry, including the Global Alliance for Responsible Media (GARM), an industry trade organization created to ensure that harmful content is not monetized.
The testing should provide brands with reassurance regarding Reels ad placement and could help to maximise reach with a chosen audience.