LinkedIn's Collaborative Articles were launched to provide members with expert insight and analysis by some of the platform's most knowledgeable users.
Daniel Roth, Editor in Chief, VP, LinkedIn

"We are introducing collaborative articles — knowledge topics published by LinkedIn with insights and perspectives added by the LinkedIn community. These articles begin as AI-powered conversation starters, developed with our editorial team. Then, using LinkedIn's Skills Graph, we match each article with relevant member experts who can contribute their lessons, anecdotes, and advice based on their professional experience."
As you can see, Collaborative Articles are started by robots, but refined by humans. LinkedIn says its conversation prompts make it easier for people to join the conversation, add, and improve ideas.
So far, there have been articles created that cover a variety of subjects, from public speaking to data visualisations.
A major growth area for LinkedIn
The feature has been a popular addition to the platform. There have now been one million expert contributions, with growth picking up since the start of October 2023. There's also a breadth of contributions, from senior leaders and executives to people closer to the coal face – which indicates that Collaborative Articles are catching the attention of a wide range of professionals.
LinkedIn has also seen a 74% growth in articles being read by members since September 2023, and the feature is the fastest growing traffic driver to LinkedIn.
Updates and refinements
With that in mind, LinkedIn has made some tweaks to the format. For starters, it's now easier to add insights to articles thanks to a new web layout, which also places a larger emphasis on human contributions vs AI-powered text, so readers can easily identify when a thought leader has provided their penny's worth.
Members can now react to articles using the full reaction set on LinkedIn, while its possible to see who the people reacting to contributions are. There's also an opportunity to grow a following via contributions, as members can follow contributors straight from an article.
There's also a new 'Top Contributors' section, which could feature a particular author at the top of the article, and an enhanced browsing experience for readers that'll improve reach and discovery.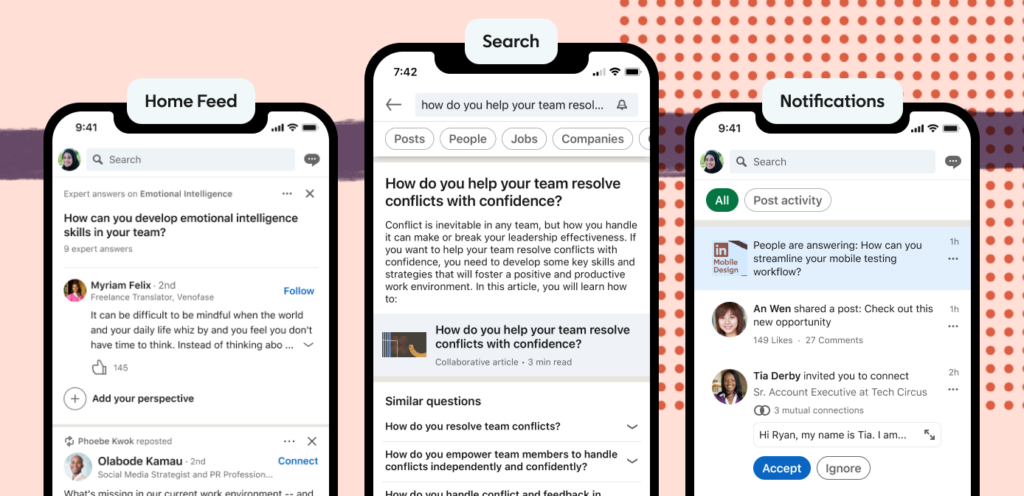 The new features don't stop there. LinkedIn has also improved the quality of its AI-powered article text and titles, which will improve the depth of the robot-written work. The platform's AI will also improve its recommendations based on your contributions, comments and posts.
Members can also pick which skills they want to contribute to by filling in the 'Top Skills' section of the profile, which can also be accessed from the Collaborative Articles section at the top of your feed.
Finally, LinkedIn has made it easier to discover and contribute to new articles thanks to the refresh of LinkedIn.com/advice. 
Making a good thing better
Collaborative Articles are driving a lot of engagement within the LinkedIn community, so it's no surprise to see LinkedIn jump in and try to make them even better for its audience. 
If you have designs on using LinkedIn to improve your professional profile, you should definitely look to contribute to Collaborative Articles, as we'll discuss below.
Heaps of participation benefits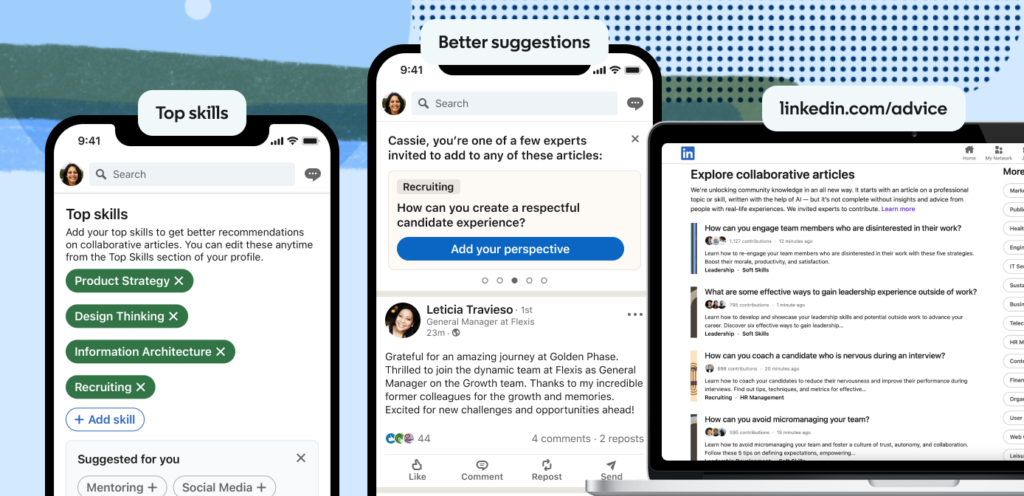 The benefits of participation go beyond the altruistic. Regular contributors will be rewarded with a Top Community Voice badge on their profile and contributions, which will show the rest of the platform that you're an expert in the field. Alongside that, participants will experience more reach in feed so your contributions will show up for people in your network and beyond. 
The reach boost don't end their either, as contributors' can expect to receive a boost in search results and notifications!
Lakshman Somasundaram, Director of Product Management, LinkedIn

"When you contribute, we now send notifications to members who would benefit from your perspectives. This way, your expertise immediately reaches the people who will get the most value from it."