Demand Gen campaigns are set to be rolled out globally, with all customers set to have access to the feature, which is built specially for social media advertising and comes equipped with new features, insights, inventory and a new creation flow.
Made for visual touchpoints
Demand Gen was introduced in June 2023 to help advertisers capture the attention of users of YouTube and Google's other visual touchpoints. Following strong beta results and positive feedback from users, Google began the rollout of Demand Gen to customers around the world in mid October, 2023.
Vidhya Srinivasan, VP & GM, Google Ads (Search Ads & Ads on Google Experiences)

"The engaging creatives can spur action while our audience and bidding solutions help you nurture interest with more potential customers."
According to Google, YouTube is twice as likely than any other video service or social media platform to be used for researching products and brands, while viewers find YouTube ads 16% more trustworthy than video ads on other platforms – all of which means that advertisers should look at Demand Gen to reach and convert those customers.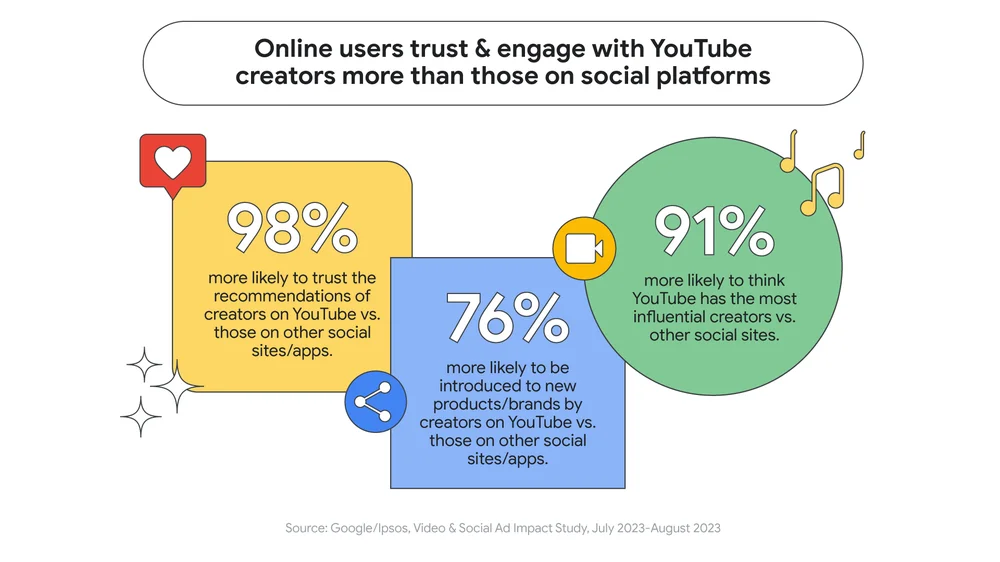 AI-powered and interactive
Demand Gen has the potential to be more effective than Discovery campaigns, which didn't allow advertisers to unleash video (both regular YouTube videos and Shorts) on an audience. Demand Gen gives advertisers more choice when it comes to ad creation, especially through visually engaging content.
Vidhya Srinivasan, VP & GM, Google Ads (Search Ads & Ads on Google Experiences)

"Demand Gen offers a variety of formats to help brands craft their stories – from short-form videos to carousels – the choice is yours. Using a mix of videos and images, Naranja X, an Argentine fintech company, tested Demand Gen to increase website traffic. When compared to paid social campaigns, Demand Gen achieved 3X higher click-through rates, at a 61% lower cost per action (CPA)."
Google has also improved the reporting UI to help marketers get more insights to drive better engagement. One way reporting has been improved is via the ability to segment performance by formats, which should help marketers identify where to focus creative efforts.

Get visual
Demand Gen is suitable for a range of different brands. For example, retailers can use the ad type to create tailored experiences by combining videos with images and text from your catalogue to show interested shoppers items based on their interests and intent.
If your brand is advertising online using highly interactive assets such as videos or engaging images, then Demand Gen is suitable for you. If not, then it's time to start considering how entertainment-focus touchpoints such as YouTube, Discover and Gmail could work.
Improved engagement and ROI
Demand Gen ads should help marketers to engage new audiences at scale, thanks to its nifty advanced audience and bidding solutions.
Vidhya Srinivasan, VP & GM, Google Ads (Search Ads & Ads on Google Experiences)

"By combining your first-party data with Google's interest signals, the new Lookalike segments can help you find new customers beyond those who are already familiar with your brand. Then, you can maximise performance by choosing the bidding strategy that fits best with your goals – such as clicks, conversions or website actions."
For example, Samsung German used the AI-powered Maximise Clicks Bidding to increase click-through rates by 400% compared to its April 2023 benchmarks, while Google showed how agencies can take advantage of Lookalike segments to find and engage new audiences.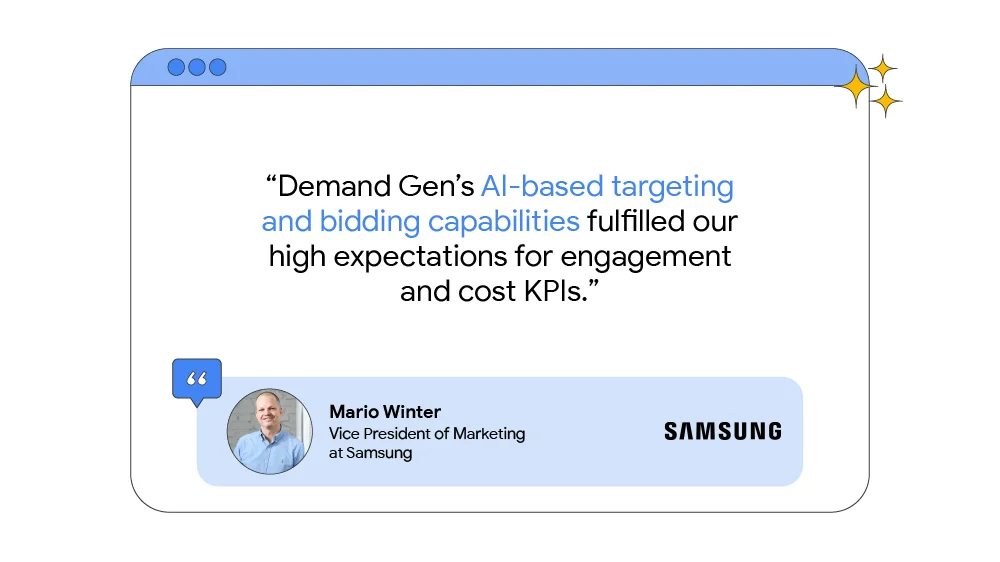 Google says it delivers results like the ones highlighted above thanks to its tailored ad experiences that serves creative to qualified audiences outside an existing customer base, including people who have made a past purchase, visited your website or watched your YouTube video.
Additionally, AI-powered bidding and measurement helps to optimise for web traffic, convert high value users and bid against efficient metrics.