Meta has announced new Reels ad features ahead of the Christmas and new year spending rush, and has updated its brand suitability to help brands take advantage of AI as 2023 draws to a close.
Reels has quickly become a format advertisers can't afford to ignore, with 200 billion plays per day across Facebook and Instagram. In recognition of that, Meta says its working hard to improve Reels ads for advertisers and viewers.
In its quest for continuous improvement, it has announced three new Reels features as well as a couple of new AI automations.
New Reels ads features
The first new feature is called Collection ads, which features one large video with smaller accompanying images. Collection ads are designed to let people swipe through different products while watching a video ad, and has launched on Instagram but is only in testing on Facebook.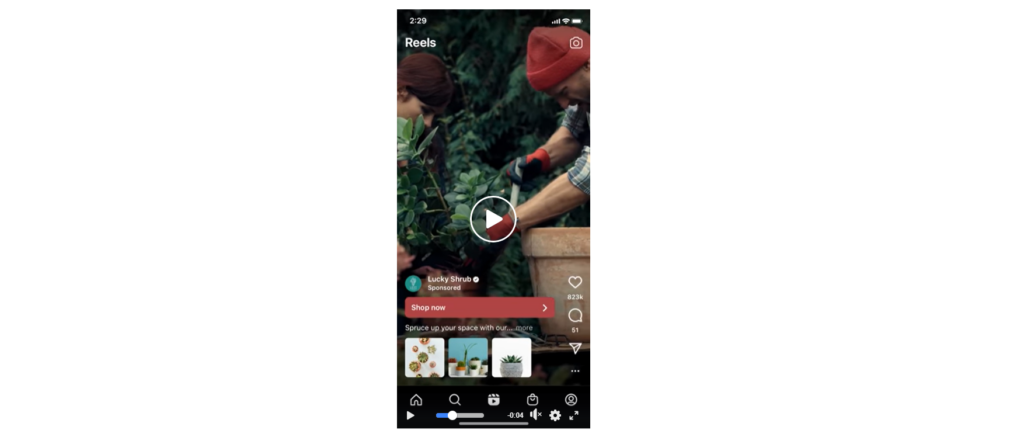 You can see Collection ads being useful for marketers planning a brand awareness campaign, but who also want to get a selection of their best products in front of customers. The advert will also be accompanied by a link, allowing users to shop easily and quickly.
Secondly, Meta has announced multi-destination Reels carousel ads.
"Multi-destination Reels carousel ads will help advertisers direct people to multiple product pages from the same carousel ad!

"Businesses will now be able to direct people to multiple product pages which can help them more easily find items they're looking for and increase sales."
Meta says this 'more seamless shopping experience' will enable multiple calls to action from the same ad, which should help marketers increase the effectiveness of their campaigns.
Finally, Meta has added a 'Swipe left' feature to ads, which is designed to "help move people from passive viewers to active shoppers." By swiping left, viewers can learn more about the shop and products they are interested in, without having to leave the app.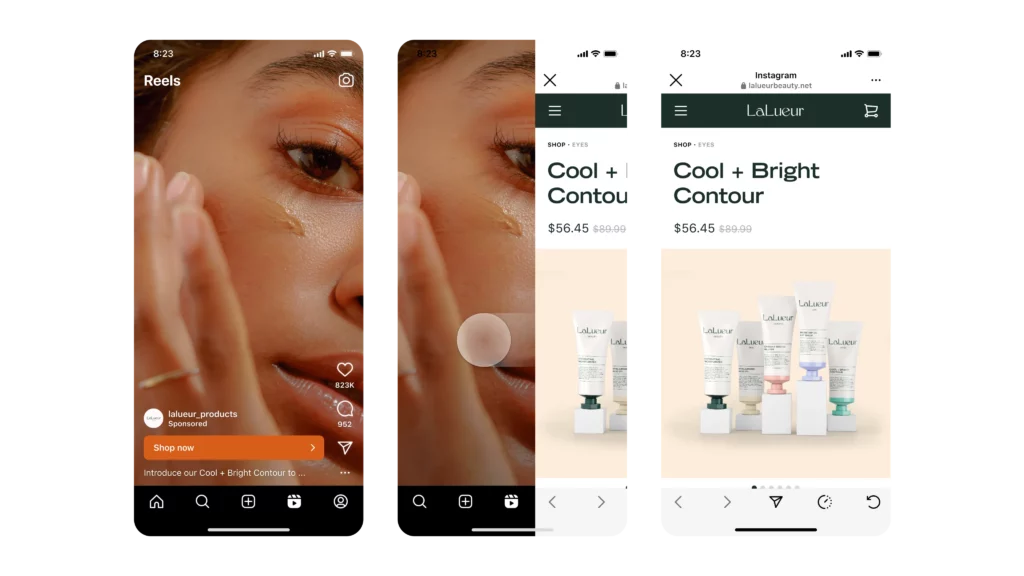 Again, this could be awesome for brand awareness.
AI-powered Reels ads
If you're a marketer, you need to be running Reels ads using creative specifically designed for short-form, vertical videos. Data from Meta makes a compelling case. For example, Reels ad using vertical sound on video creative earned 4.8% lower cost per action, a 5.1% higher click-through rate and 2.9% higher conversion rate.
To continue to provide value to businesses, Meta has invested in Advantage+ creative to help marketers automate creative – which should help advertisers earn better results, with less time investment!
Meta has two AI-powered additions to Advantage+ creative suit. The first one is its new range of creative optimisations for Reels, which includes an template that automatically converts the aspect ratio of videos to 9:16 (vertical) – saving creatives a bunch of time! 
But that's not all, the automatic templates also include 3D motion and depth, aspect ratio variance, image and video enhancements including filters to sharpen colour and improve video resolution.
"Creative and format optimizations such as automatic templates and filters may be automatically applied when you select Reels placement to help your ad perform better. Meta offers additional creative optimizations within Advantage+ creative in Ads Manager and we automatically show an optimized version of your creative or your original creative based on what we predict will have the best results."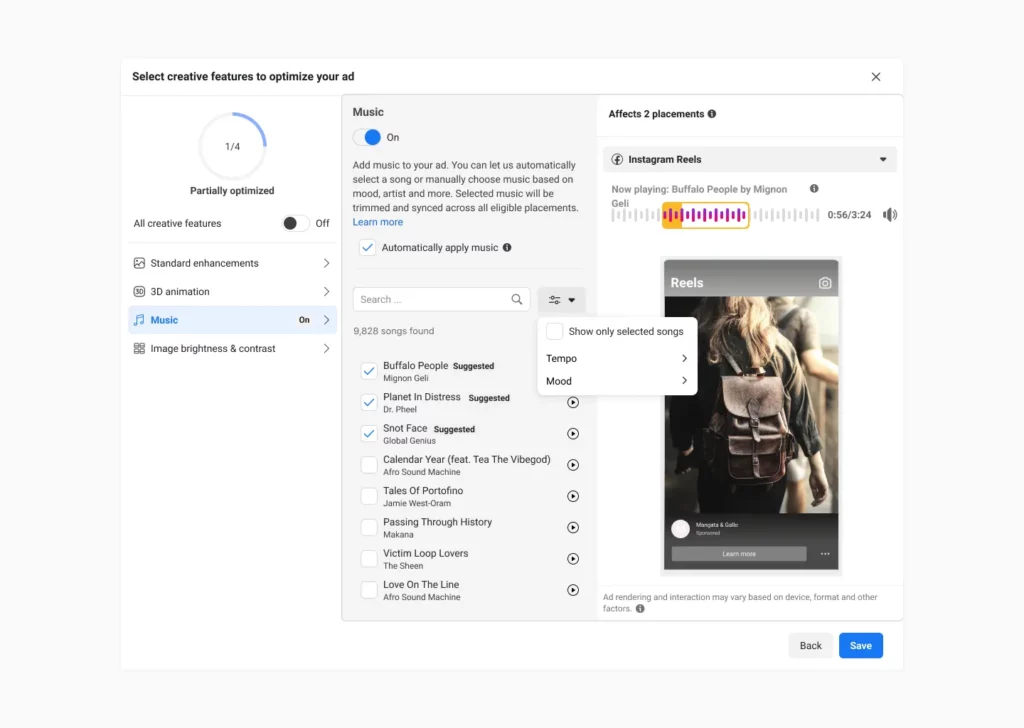 Meta is also determined to help marketers pick the right music, sound effects or voiceover to help make Reels more engaging and entertaining. Data from the company suggests that ads with music and a voice-over have a more positive response from consumers.
To help everyone earn those results, all advertisers on Facebook and Insta can source, select and add music to single image Reels ads during the campaign creation process – which should result in better engagement and results. A word of warning though, this is only available on iOS devices.
New brand suitability control
Meta has also announced the roll-out of brand suitability Invetory Filter control and third-party brand suitability verification in partnership with Zefr.
"Inventory filter allows advertisers to control the type of content that shows up next to their ads (aligned with the GARM Brand Suitability Framework), while third-party verification, currently offered through Zefr, acts as independent measurement and provides advertisers with transparency and reporting on content adjacent to ads."
So far, responses have been positive. Meta used Molson Coors Beverage Company as an example. Molson Coors wanted to drive engagement among legal drinking age audience, and used the new brand suitability controls and verification solutions to do just that.