Meta is rolling out the ability to create multiple Facebook profiles per account so users can explore different interests and interact with other sections of the platform. 
Separation of interests
The move should help users to keep personal and professional relationships separate or to use one profile for interest groups and another for friends.
"Creating multiple personal profiles lets you easily organise who you share with and what content you see for the various parts of your life. Think one profile for the foodie scene you love and another one to keep up with your friends and family."
Separate profile helps people to feel freer to engage with relevant audiences thanks to a clearer organisation of friends, groups and interests, says Mata, while the success of interest-based accounts on Insta also prompted the move to bring separate profiles to Facebook. The feature has been in testing since 2022 and is now available across the globe.
With engagement declining, Meta requires some way to keep Facebook users on the site, and interacting with other people. Having multiple profiles, which could help them mask their identity, could be one way to boost engagement. Hopefully, we won't see an increase in the amount of negative comments and trolling!
One less thing for marketers to worry about
The move could be good for marketers working on the front line, who will now be able to put up some walls better their 'work' selves and 'downtime' selves. Now, marketers could maintain a vanilla profile for social media management purposes, while expressing their true interests on a different profile – but crucially, one that is tied to the same account.
The separation could also be good from a brand safety point of view, as there is less of a risk of a rogue post appearing where it shouldn't be. And from an employee's point of view, the less sensitive information they are potentially exposing, the better.
How separate profiles will work
From your main profile, you can choose up to four other usernames for additional profiles and then use those profiles to connect with different people or communities. Each profile will have a unique Feed, populated by relevant content and shared interests.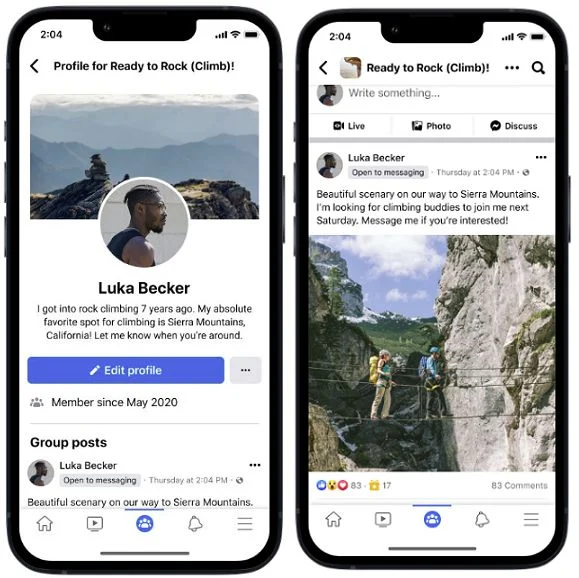 People can switch between profiles with no login required. Being forced to switch between up to four profiles could prove to be annoying for some users, but for those who need separate identities, it could be a small price to pay.
Users can tailor their 'About Me' section for each profile to highlight specific information they want to share with the world. However, users can't access Facebook features such as Dating, Marketplace, Professional Mode and payments from additional profiles (that may come later), and right now, messaging will only be available via web and on the Facebook app. Meta adds that Messenger support for additional profiles will be added soon.
Profile controls
Unfortunately for those with stricter privacy controls, additional profiles will automatically come with default settings.
"Additionally, some settings are managed separately for each profile, such as choosing who can see that profile's posts or who can send friend requests to that profile.  We recommend checking your privacy settings for each new profile you create."
Finally, there are still strict rules about what your main Facebook profile is allowed to be called. It still has to be the name you go by in everyday life – while additional profiles can't impersonate others to be used to misrepresent a location.